Ahlstrom-Munksjö's new MasterTape™ Pack Green range paves way for a plastic-free future of packaging
There is approximately 30 billion square meters of packaging tape worldwide, and with the expansion of ecommerce, the numbers are growing. This large market is dominated by plastic tapes, which make up 90% of existing packaging tape. However, paper tapes are a much more sustainable alternative to plastic-based, which paves way for a plastic-free future of packaging.
A step towards meeting the growing market demand, Ahlstrom-Munksjö MasterTape™ Pack Green range is designed for sustainable pressure sensitive adhesive tape applications. Repulpable and recyclable, with high biobased content, MasterTape™ Pack Green minimizes environmental impacts and is perfect for light and medium duty packaging.
Ahlstrom-Munksjö is dedicated to supporting the transition to a more sustainable world less dependent on plastic through the development of innovative fiber-based materials that meets the increasing demand for e-commerce and sustainable packaging solutions. As a key player in the packaging tape industry, Ahlstrom-Munksjö is currently providing tape backing solutions for water-activated and pressure sensitive adhesive tapes.
We have expanded our PSA tape backings range with the new MasterTape™ Pack Green. Through repulpable and recyclable tape designs the MasterTape™ Pack Green illustrates our devotion to product circularity.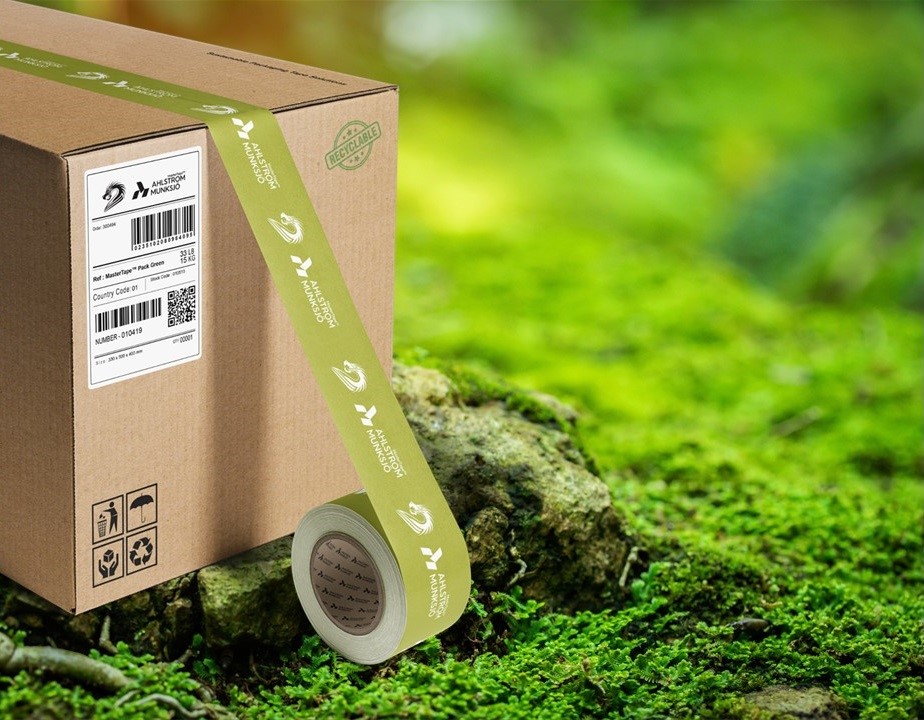 Areas of usage of the MasterTape™ Pack Green
The MasterTape™ Pack Green range is versatile and can be applied in a multitude of settings. Some examples are light, medium and Heavy duty packaging tapes for carton sealing tape applications, e-Commerce packaging tapes for dispensers or automatic carton sealing machines, and closure tape for packing, wrapping, or bundling.
A product range with sustainability at its core
| | |
| --- | --- |
| | |
| Sebastien Ferrari, Product Manager, Packaging Tape at Ahlstrom-Munksjö | |
The MasterTape™ Pack Green range possesses a large set of sustainability characteristics, including FSC® certified fibers, is repulpable and recyclable according to EN13430 Guidelines, has a large share of biobased contents and uses renewables and greener saturants. It is available in two variants, saturated only or ready for adhesive coating. It exhibits the optimum trade-off between performance, sustainability and cost. With this product range, Ahlstrom-Munksjö completes the packaging tape portfolio with must-have products to sustain the growing packaging industry.
"This product is likely to be our greatest tape asset in expanding to new customers and market segments worldwide. I am confident it will be identified as a trusted fiber-based solution reducing the use of plastic components in packaging tapes," says Sebastien Ferrari, Product Manager, Packaging Tape.
Moreover, Ahlstrom-Munksjö offers tailormade solutions within the MasterTape™ Pack Green range. With customizable levels of saturation and release coating, and different release systems for easy, medium and tight levels, as well as different designs and colors, the products can be tailored to fit customer needs. Besides, the approach to sustainability is based on minimizing the environmental impacts of our operations and products. We use the principles of "Green Chemistry", Eco-Design and life cycle assessments in our product development, to determine the potential impacts our products and processes may have on the environment and ultimately how to reduce them.
Read more about the MasterTape™ Pack Green range