Disruptor® water purification technology donated to Puerto Rico
In September 2017 two consecutive hurricanes, Irma and Maria, hit Puerto Rico only two weeks apart. The Hurricanes seriously damaged the infrastructure of the Caribbean island and killed close to 50 people. Altogether nearly 200 people lost their lives in Caribbean and Florida in these two hurricanes.
In addition to the high death toll, thousands of people were left without electricity, food, shelter and drinking water. The island has 3.4 million inhabitants and it was estimated that more than 2.5 million people are still without power and 1.1 million don't have access to clean water. Municipal water services were affected by the electricity outage and in many locations, the wastewater was not treated before being discharged. Due to the poor access to fresh water, many are bathing and washing clothes using polluted water.
Contaminated water can cause many types of diseases including diarrhea. Ahlstrom-Munksjö's Disruptor® technology has been proven to reduce a wide range of potentially harmful bacteria from water, making it safe to drink.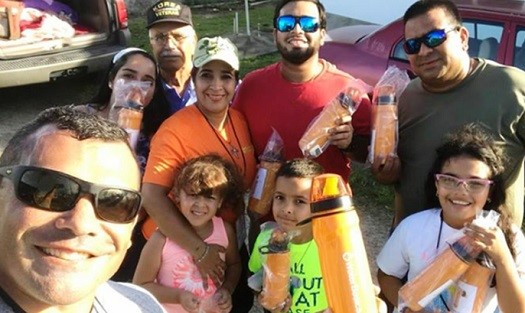 Together with Aquamira Technologies Inc., we were pleased to be able to donate water bottles that included the Disruptor® technology to the first responders helping the people of Puerto Rico. It is important that first responders remain healthy as they travel the country in order to continue to provide desperately needed services without falling victim to disease themselves. We sincerely thank Raymond Guasp and the charity organization, Veterans4.org, who were the "boots on the ground" that distributed the bottles.
We will continue to follow the Puerto Rico water crisis carefully, trusting that our water purification media can bring a valuable contribution in times of natural disaster.

Ahlstrom-Munksjö
Ahlstrom-Munksjö is a global leader in fiber-based materials, supplying innovative and sustainable solutions to customers worldwide. Our offerings include decor paper, filter media, release liners, abrasive backings, nonwovens, electrotechnical paper, glass fiber materials, food packaging and labeling, tape, medical fiber materials and solutions for diagnostics. Combined annual net sales are about EUR 2.15 billion and we employ 6,000 people. The Ahlstrom-Munksjö share is listed on the Nasdaq Helsinki and Stockholm. The company was formed on April 1, 2017 through the merger of Ahlstrom Corporation and Munksjö Oyj.


Aquamira Technologies, Inc. www.aquamira.com
Our idea is simple; people should be able to drink water anywhere, and the water should be safe to drink, taste good and be easy to treat. This idea inspired our research team to develop the technology for a variety of portable drinking water systems and a line of water treatment products that effectively treat water in all kinds of environments. Our goal is to provide you with safe, pure and good tasting drinking water. Our complete line of water treatment products include leading edge purification and filtration technologies developed and tested in the lab and proven in the field.