Tecnologias de ponta permitirão novos desenvolvimentos em Jacareí e serão prioridade da área de P&D no biênio 2019-20
(check out the English version below)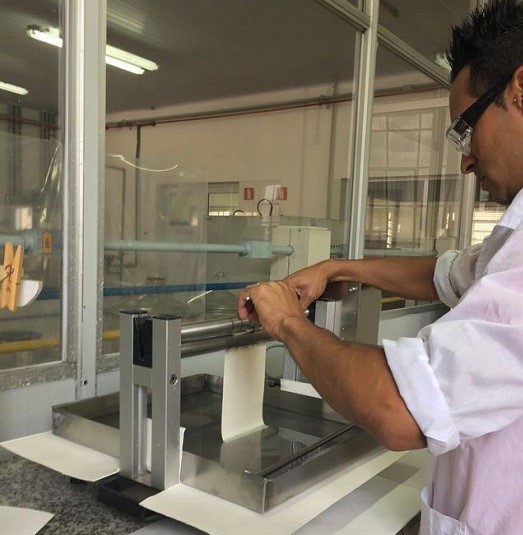 Já é conhecido que a planta da Ahlstrom-Munksjö de Jacareí recebeu a aprovação para um investimento de cerca de 100 milhões de reais que será voltado a melhorar a capacidade produtiva da planta. Muitas coisas já foram escritas sobre esse investimento, porém nunca foi explorado os desafios que este investimento trará para o time de Inovação.
Pensando num projeto desse porte, com várias instalações novas tanto na maquina de papel, como nas máquinas envolta, é natural pensar que departamentos mais envolvidos sejam Engenharia, Operação, Manutenção, mas o departamento de Inovação também é muito importante neste processo, tendo em vista que ao possuir novos equipamentos e aplicações com melhores tecnologias, abrem-se possibilidades de desenvolvimento de novos produtos, ou seja, Inovação.
O grupo de P&D (Pesquisa e Desenvolvimento) já está trabalhando nisso fazem meses, na fase preparatória das especificações dos equipamentos definindo algum ponto firme relacionado a parâmetros de tintas de revestimento, também na engenharia dos principais produtos, em garantias de qualidade; Enfim, a preparação do projeto é tão importante quanto a sua própria execução.
Além do processo de novas possibilidades de desenvolvimento, a Inovação também atua muito ligada a máquina de uma forma técnica.; A aplicadora que vai ser instalada, apesar de ser uma tecnologia conhecida no mercado há anos, é um modelo que podemos considerar como estado da arte dessa própria tecnologia. Ela irá proporcionar uma aplicação de tinta muito bem controlada, em termos de qualidade e quantidade. A superfície dos papeis vai ser livre de defeitos devido ao sistema de aplicação por barrinha, que permite o ajuste fino da camada aplicada, muito importante na produção de papeis especiais. Um sistema de detecção de defeito de ultima geração, que opera por transmissão e refração, vai ajudar na identificação on-line dos diversos defeitos (tal como manchas escuras, falha de revestimento, furos, etc.), para que sejam removidos antes de enviar o produto para os Clientes, e devidamente analisados para encontrar a causa raiz e resolver o problema. A calandra on-line, permite obter um acabamento superficial que nossos papeis especiais são orgulhosos de entregar, ou seja brilho e lisura.
Enfim, a máquina de papel irá se renovar de uma maneira muito interessante para quem trabalha na Inovação, uma gama incrível de possibilidades se abre. Além de aumentar o portfolio de produtos, teremos a capacidade técnica de combinar a máquina de papel com o Coater off-line e criar produtos que, até então, não tínhamos como produzir, buscando novos mercados e cada vez um desafio maior.
---
Leading technologies will allow new developments in Jacareí and will be top priority of the R&D area in the biennium 2019-20
It is already known that the Ahlstrom-Munksjö plant in Jacareí has received approval for an investment of around 100 million reais that will be aimed at improving the plant's productive capacity. Many things have already been written about this investment, but the challenges that this investment will bring to the Innovation team have never been explored.
Thinking about a project of this size, with several new facilities in both the paper machine and the surrounding machines, it is natural to think that Engineering, Operation, Maintenance departments are the one involved in the project, but the Innovation department is also very important in this process, since having new equipment and applications with better technologies, opens up possibilities for the development of new products.
The R&D group is already working on the project for months, in the preparatory phase of the equipment specifications defining coatings parameters, also in the engineering of the main products, in quality assurance; The preparation of the project is just as important as its own execution.
In addition to the process of new possibilities of development, Innovation also works very closely with the machine in a technical way; The coating machine to be installed, despite being a technology known in the market for years, is a model that we can consider as the state-of-the-art of this technology itself. It will provide a very well controlled ink application in terms of quality and quantity. The surface of the paper will be free of defects due to the bar application system, which allows the fine adjustment of the applied layer, which is very important in the production of specialty papers. A state-of-the-art defect detection system, which operates by transmission and refraction, will aid in the online identification of various defects (such as dark spots, coating failure, holes, etc.), so that they are removed before sending the product to the customers, and properly analyzed to find the root cause and solve the problem. Finally the online calendering rolls enables obtaining a surface finish that our specialty papers are proud to deliver, that is, brightness and smoothness.
Anyway, the paper machine will renew itself in a very interesting way for those who work in Innovation, an incredible range of possibilities opens up. In addition to increasing the product portfolio, we will have the technical ability to combine the paper machine with offline Coater and create products that, until now, we had not been able to produce, seeking new markets and each time a greater challenge.