Ahlstrom-Munksjö Brasil está novamente nas Melhores Empresas para Trabalhar
(check out the English version below)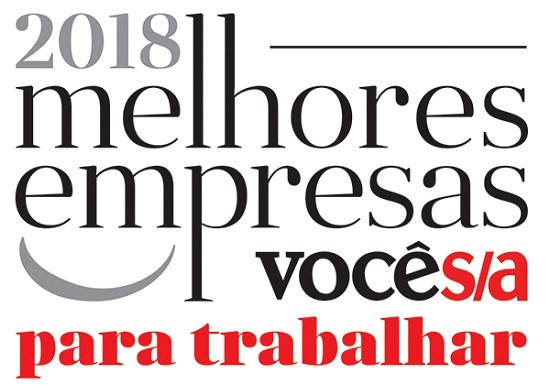 A empresa, que já havia figurado entre as TOP 140 em 2018, saltou para as TOP 80 do ranking deste ano, melhorando seus índices em praticamente todas as categorias.
"Estou muito feliz em anunciar que estamos nesse ranking novamente, mais ainda por saber que evoluímos muito do ano passado para cá, tanto na opinião dos nossos colaboradores quanto na avaliação da Você S/A e da FIA", comemora Valmir Piton, Diretor Presidente da Ahlstrom-Munksjö Brasil, que recebeu a premiação.
Marcos Galetti, Gerente Executivo de RH, que ressalta a importância de ter uma equipe unida, motivada e voltada ao trabalho conjunto em benefício de todos. "A evolução da nossa empresa no Guia Você S/A é mais uma evidência do que significa estarmos orgulhosos, e ainda mais apaixonados por melhorar e inovar", complementa.
A escolha das 150 Melhores Empresas para Trabalhar no Brasil, pelo Guia Você S/A, é definida a partir de pesquisa realizada pela revista junto aos funcionários das companhias, e cujas avaliações têm o maior peso na classificação no ranking, e com base no relatório de práticas de gestão enviado por elas e analisados por especialistas da Você S/A e da Fundação Instituto de Administração (FIA). Além disso, a metodologia de classificação leva em consideração a percepção do jornalista que visita as empresas e entrevista pessoalmente seus colaboradores.
Ao analisar o relatório de práticas de gestão enviado à revista pela Ahlstrom-Munksjö, as categorias que mais evoluíram de acordo com o Guia Você S/A foram: "Gestão do Perfil da Liderança", "Gestão das Relações Interpessoais" e "Gestão Estratégica e Objetivos", que ficou entre as categorias mais bem avaliadas da Ahlstrom-Munksjö Brasil, ao lado de "Gestão de Processos e Organização", que já havia sido destaque no ano passado.
---
Ahlstrom-Munksjö Brazil is again between the best companies to work for
The company, which had already figured among the TOP 140 in 2018, jumped to the TOP 80 of this year's ranking, improving its indices in virtually all categories.
"I am very happy to announce that we are in this ranking again, especially since we have evolved a lot from last year, both in the opinion of our employees and in the evaluation of Você S/A and FIA", said Valmir Piton, CEO of Ahlstrom-Munksjö Brazil, who received the award.
Marcos Galetti, Executive HR Manager, who emphasizes the importance of having a team that is united, motivated and focused on working together for the benefit of all. "The evolution of our company in Guia Você S/A is further evidence of what it means to be proud, and even more passionate about improving and innovating," he adds.
The choice of the 150 Best Companies to Work for in Brazil, by Guia Você S/A, is based on a survey conducted by the magazine with company employees, which evaluations have the highest weight in the ranking, and also based on the report of management practices submitted by them and analyzed by specialists from Você S/A and Fundação Instituto de Administração (FIA). In addition, the classification methodology takes into account the journalist's perception that visits the companies and personally interviews its employees.
When analyzing the management practices report sent to the magazine by Ahlstrom-Munksjö, the categories that evolved most according to Guia Você S/A were: "Leadership Profile Management", "Management of Interpersonal Relationships" and "Strategic Management and Objectives", which was among the best-evaluated categories of Ahlstrom-Munksjö Brazil, along with "Process Management and Organization", which had been featured last year.