Nova aquisição reforça a liderança global da Ahlstrom-Munksjö na produção de papéis especiais
(check out the English version below)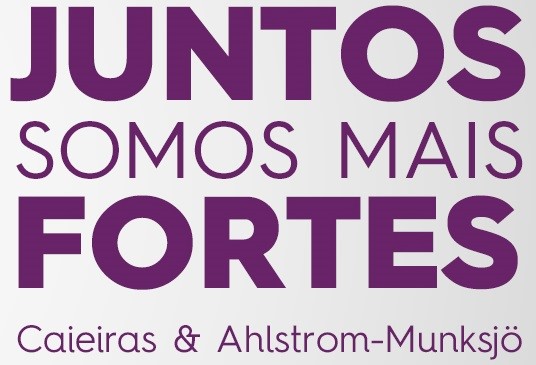 A Ahlstrom-Munksjö concluiu a compra da planta de Caieiras (SP) da MD Papéis, com um investimento de R$ 420 milhões. Os negócios adquiridos tiveram vendas líquidas de cerca de R$ 328 milhões e EBITDA comparável de R$ 51 milhões em 2017. São estimados benefícios anuais de sinergia de até R$ 27 milhões, principalmente devido à otimização de negócios sobrepostos. O acordo foi anunciado em 24 de abril de 2018.
A aquisição permite à empresa contar agora com a fabricação local de papel decorativo – além de outros segmentos já atendidos no Brasil, como papel filtrante automotivo, embalagens e release liners, por exemplo – e fortalecer assim sua liderança global também neste segmento. Desta forma, a Ahlstrom-Munksjö amplia a oferta de produtos no Brasil e região.
"Nosso objetivo é estarmos próximos dos nossos clientes, com o fornecimento de produção local como forma de ampliar suas opções e oferecer vantagem competitiva, por meio da redução de estoques e custos agregados. Isso sem contar a eliminação dos efeitos da variação cambial", afirma Valmir Piton, vice-presidente da unidade de Coated Specialties e diretor-presidente da Ahlstrom-Munksjö Brasil. "Além disso, os produtos até então fabricados pela MD estão alinhados ao portfólio global da Ahlstrom-Munksjö e complementam as soluções desenvolvidas especialmente na nossa planta de Jacareí", conclui.
Combinada à unidade de Jacareí, também em São Paulo, a fábrica de Caieiras aumenta significativamente a capacidade anual de produção de papéis especiais da Ahlstrom-Munksjö no Brasil. Vale lembrar que a Ahlstrom-Munksjö também conta com uma fábrica em Louveira, focada no atendimento do mercado automotivo com papéis filtrantes.
No segmento de papéis decorativos, a Ahlstrom-Munksjö atende clientes globais e nacionais. Até então, a produção desses materiais estava concentrada na Europa, com cerca de 15% a 20% da produção exportada para clientes na Ásia e nas Américas. "A demanda por papéis decorativos está muito atrelada ao mercado de laminados decorativos, utilizados pela indústria moveleira, de construção civil entre outras. Apesar da atual crise econômica do Brasil, a fábrica opera hoje a plena capacidade, ininterruptamente", explica Piton, ao destacar que a unidade de Caieiras está pronta para responder a um aumento do consumo interno.
---
New acquisition strengthens Ahlstrom-Munksjö global lead in specialty paper production
Ahlstrom-Munksjö has completed the purchase of MD Papéis (SP) Caieiras plant with an investment of R$ 420 million. The business acquired had net sales of about R$ 328 million and comparable EBITDA of R$ 51 million in 2017. Annual synergy benefits of up to R$ 27 million are estimated, mainly due to the optimization of overlapping deals. The agreement was announced on April 24, 2018.
The acquisition allows the company to now count on the local manufacture of decor paper - in addition to other segments already served in Brazil, such as automotive filtering paper, packaging and release liners, for example - and thus strengthen its global leadership in this segment. In this way, Ahlstrom-Munksjö expands the offer of products in Brazil and in the region.
"Our goal is to be close to our customers by providing local production as a way to expand their options and offer a competitive advantage by reducing inventories and aggregate costs. And, of course, the elimination of the effects of exchange rate variation", said Valmir Piton, vice president of the Coated Specialties unit and CEO of Ahlstrom-Munksjö Brazil. "In addition, the products manufactured by Caieiras are in line with Ahlstrom-Munksjö's global portfolio and complement the solutions developed especially at our Jacareí plant," he concludes.
Combined with the Jacareí unit, also in São Paulo, the Caieiras plant significantly increases the annual Ahlstrom-Munksjö specialty paper production capacity in Brazil. It is worth mentioning that Ahlstrom-Munksjö also has a plant in Louveira, focused on serving the automotive market with filter papers.
In the segment of decor paper, Ahlstrom-Munksjö serves global and national customers. Until then, the production of these materials was concentrated in Europe, with around 15% to 20% of the production exported to customers in Asia and the Americas. "The demand for decorative papers is linked to the market of decorative laminates, used by the furniture, civil construction industries among others. Despite the current economic crisis in Brazil, the plant operates today at full capacity, uninterruptedly", explains Piton, noting that the Caieiras unit is ready to respond to an increase in domestic consumption.