Grapes packaging contest
500 visitors came last Sunday, 9th of July, to encourage their champions for the incredible Novelda contest of grapes packaging, located in the beautiful Alicante area in Spain.
During the day, approximately 20 farmers were fiercely competing to pack a maximum number of grapes in paper bags directly on the vine. The use of wrapping bags enable the farmers to protect the grapes during its growth and allows a sustainable maturating of the fruit.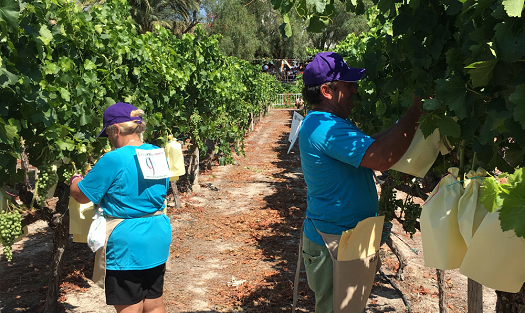 Vinalopó grapes has exceptional quality features
In the Alicante region, the land has produced excellent fruits from its grapevines for many decades. This area is called Vinalopó and is a valley of 2,300 hectares, shared between seven small villages, which produce around 150 million kilos of grapes annually. The product is certified under the denomination control classification as grapes for eating from Vinalopó.
These grapes are not used to produce wine and are sold directly as table fruit. This fruit is considered as one of the highest quality white grapes. The produce is exported to France, Italy and Russia, and is traditionally sold to celebrate New Year's Eve. The Vinalopó bagged table grapes are produced with a special crop system which provides exceptional physical and gastronomic characteristics. For this reason, these are the only bagged grapes in the world with a "designation of origin".
Wrapping bags: a sustainable way to help fruit maturation
When the grapes start ripening (end of July), the best bunches are selected and each one is covered with a special paper bag, which is tied to the stem leaving the lower part open. After that, the bags remain on the tree for three-four weeks for the early variety (Ideal), and five-six months maximum for the Aledo variety.
These wrapping bags protect from insect attack and from climate conditions, due to frequent hailstones locally. This technique enables as well to preserve the good quality of the fruit, its color and limit potential defects in the skin. An efficient and sustainable way to avoid phytosanitary chemicals! At the same time, the paper helps the maturing of the fruit. This protection allows the fruit to grow with a thinner skin and to prolong the maturation of the grapes.
Ahlstrom-Munksjö, the expert in fiber-based materials, has developed for Novelda a customized wrapping paper solution specially adapted for this grape wrapping applications. The company was really proud to be amongst the sponsors of this event and congratulates all the professional competitors.
To learn more about this unique technique, feel free to contact Jordi Jove, Sales Manager Spain, Foodpack who had the pleasure to attend this event. Contact: jordi.jove@ahlstrom-munksjo.com.