Tour de France passed by our Rottersac plant
Tour de France passed by Ahlstrom-Munksjö paper mill in Rottersac, France.
On July 11, 2017 the 198 racer cyclists of the mythic Tour de France went through the beautiful Dordogne area in South of France. The 10th stage "Périgueux-Bergerac" covers a distance of 178 kilometers, marked by an impressive sprint moment at the arrival at Bergerac. For Ahlstrom-Munksjö employees, the highlight of the day was the passage of the 104th Tour de France in front of the Rottersac paper mill located in Lalinde, close by Bergerac. The passage of the Tour de France is known as a joyful and convivial moment. More than a sportive event, it's a show to please people.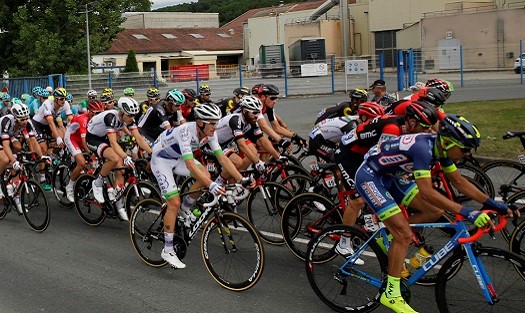 12 million spectators on the road every summer to watch the Tour de France.
Few figures:
Dates: From the 1st to the 23rd of July 2017
Made up of 21 stages and will cover a total distance of 3,540 kilometers. (2200 miles).
Visits three neighboring countries: Germany, Belgium and Luxemburg. In France, 34 departements will be visited.
This year, departure from Düsseldorf in Germany. The Tour was organized 21 times with a departure from a foreign country.
198 riders ; 22 teams of 9 riders.

A total of 23 mountain passes, slopes or arrivals in altitude
The five main mountain ranges of France will be on the program in 2017. It hadn't happened since 1992.
The bunch drinks a little bit more than 40.000 liters of water per Tour de France
More than 12 million spectators come on the road to see the race, making it the World's largest sportive event in the World.
And for the most curious passing by and wonder what is manufactured at the Rottersac plant:
Ahlstrom-Munksjö Rottersac production site manufactures specialty papers for food and non-food flexible packaging, repositionable notes, envelop windows and other industrial applications. In everyday life, these papers are for instance used for baking, packaging of sweets or cheese, to name a few. The site employs 201 employees.