Turin plant awarded for safety management
The plant in Turin has been selected as one of the 16 best companies in Italy for safety management.
The award "Industry for Safety" is promoted by the National Industry Association (Confindustria) together with the Italian Authority for safety (INAIL), in cooperation with Accredia (the national accreditation body) and APQI (Association Quality Award Italy).



The target of the award is to promote safety culture. It is addressed to the companies which stand out for a solid long-term commitment and for valuable management results in health and safety.
The first part of the selection started in fall 2016. It consisted a long check-up survey related to technical as well as management aspects of safety and involved 129 voluntary companies. Then, after a first screening based on the survey and the documentation related, an auditing team visited the chosen plants for a deep safety audit.
Daniele Borlatto, EVP Industrial Solutions, is glad to comment the news "Congratulations to Turin team for this meaningful achievement!" he says. "This is a recognition for several years of commitment and hard work on safety. According to our continuous improvement approach, we consider it not as a final goal, but as a boost to do even better".
Marco Troglia, VP Release Liners BU, and Diego Vaccarotto, HSE Manager, are very satisfied too. They say "We are proud of this important result. Thus, we want to thank the management team of the plant and all our employees, who every day confirm their commitment towards safety and demonstrates that safety really is our mindset".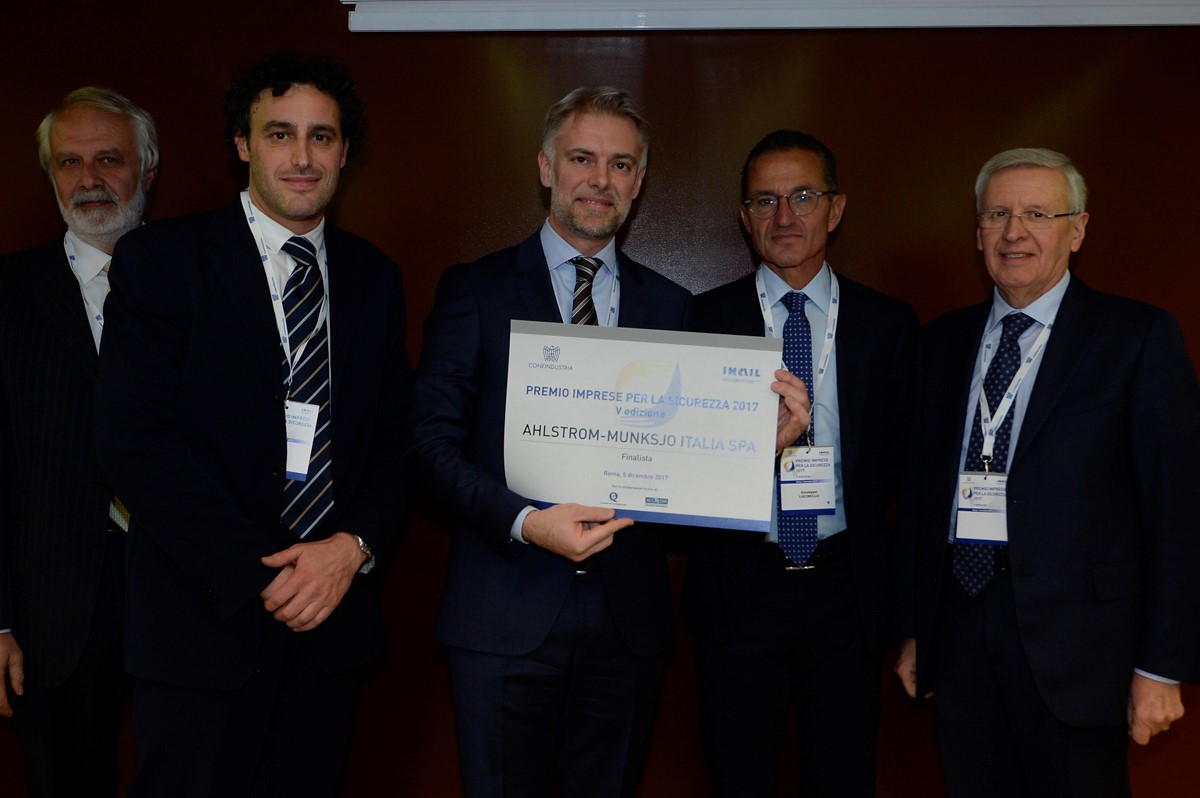 Marco Troglia (in the middle), VP Release Liners and Diego Vaccarotto (second from left), HSE Manager, during the award ceremony, on the 5th of December in Rome.Together with them, from the left: Massimo Tronci, Board member of APQI (Association Quality Award Italy), Giuseppe Lucibello, General Manager of INAIL (Italian Authority for Safety) and Giuseppe Rossi, President of Accredia (national accreditation body).