Ahlstrom FiltEV® Fuel Cell Air Intake filter media paves the way for heavy-duty electric vehicles
Every day, 60 million heavy-duty vehicles travel thousands of miles around the globe, transporting everything from people to livestock, vital medicines to hazardous waste.
While most still rely on diesel, the growing push for a fast transition to zero-emission vehicles is accelerating investments to improve technologies and infrastructure that power these big engines.
The fuel cell is an ideal power source for heavy-duty vehicles. A fuel-cell electric vehicle is fitted with a hydrogen tank, which feeds the fuel cell with high-pressured hydrogen gas. The fuel cell then converts hydrogen and oxygen, to produce electricity that powers the electric motor. Compared to electric batteries, the fuel cell is smaller, lighter, faster to re-fuel, and provides more power.
The challenge? The oxygen needs to be completely pure to not damage the fuel cell catalyst, but it is taken from the outside air, which can be polluted by various gases. Hydrocarbons, sulfur dioxide (SO2), nitrogen oxide (NOx), and ammonia (NH3) poison the catalyst, while particles can enter the fuel cell and foul the proton exchange membrane.
Ahlstrom rises to the challenge
As the number one provider of filtration products for the automotive market, Ahlstrom has developed the Ahlstrom FiltEV® Fuel Cell Air Intake filter media. It is a multi-layer dry technology designed for high basis weight adsorbent media. It delivers flexibility, outstanding performance, and optimal processability to fulfill the most challenging requirements of the industry.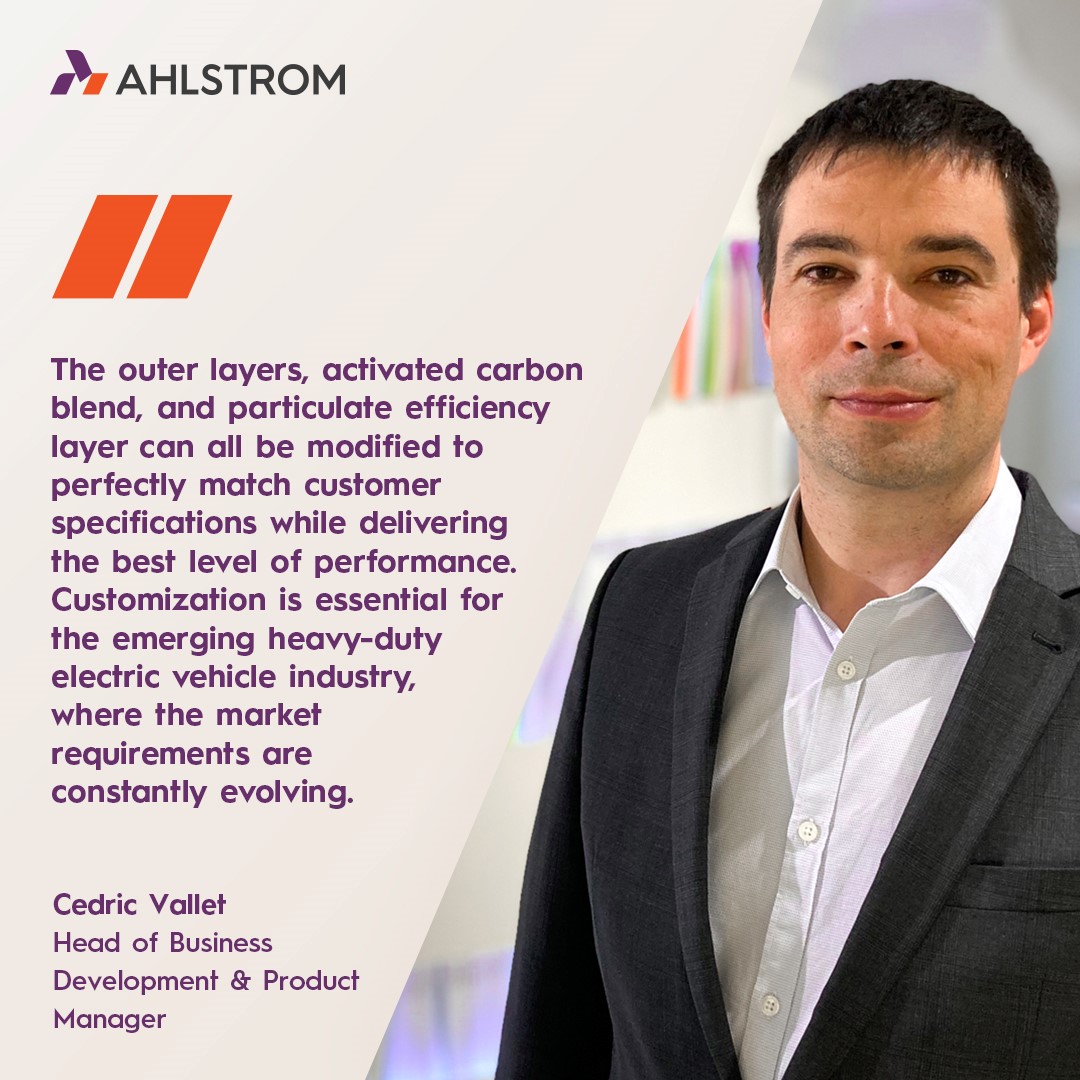 "Put simply, our filter media delivers the best, purest air for the fuel cell cathode. It removes the finest airborne particles and harmful gases, protecting the catalyst and the membrane and thereby extending the fuel cell lifetime," explained Cedric Vallet, Ahlstrom's Head of Business Development & Product Manager – Filtration.
"The technology is also highly customizable. The outer layers, activated carbon blend, and particulate efficiency layer can all be modified to perfectly match customer specifications while delivering the best level of performance. The customization is essential for the emerging heavy-duty electric vehicle industry, where the market requirements are constantly evolving."
The Fuel Cell Air Intake filter media for fuel cell electric vehicles complements the existing Ahlstrom FiltEV® product offering, which includes filtration solutions for cabin air, transmission, and cooling systems in electric vehicles.
"While the electric vehicle market is still relatively new, Ahlstrom has been providing high-performance filtration materials to the automotive industry for more than 50 years," Cedric added. "We've built on that experience and invested heavily in R&D, to ensure Ahlstrom FiltEV® products are the best on the market in terms of quality and reliability for electric vehicle manufacturers and suppliers."
Towards a greener future
This not only optimizes the cost/benefit for our customers, but it also supports wider sustainability efforts. Fuel cells have lower to zero emissions compared to combustion engines. Hydrogen can be produced using solar or wind power, thereby reducing our reliance on fossil fuels. And they're much more efficient than fossil fuels and other renewables.
No wonder the Ahlstrom FiltEV® Air Intake filter media was recognized as Product of the Year at the 2022 Waterloo Filtration Institute Conference, contributing to a clean, healthy, and sustainable world.
"With our Fuel Cell Air Intake filter solution, we deliver the most reliable protection of people and systems, while supporting the transition to more sustainable travel," said Cedric. "We have major ambitions on all Ahlstrom FiltEV® segments, providing premium filtration solutions to all electric vehicles in line with our purpose: to purify and protect, with every fiber, for a sustainable world."
If you want to know more about Ahlstrom FiltEV® product range, contact Cedric Vallet at cedric.vallet@ahlstrom.com.