Ahlstrom-Munksjö Milestones with Paolo Mazzetta
They say jobs fill your pockets but adventures fill your soul. If that is the case, then Paolo Mazzetta landed with the best of both worlds when he joined Ahlstrom Italy in 1997. From moving between Italy and Spain to his journeying across the Middle East – here, he reflects upon his adventures with Ahlstrom-Munksjö and his life over the past 23 years.

1997-2002: Sales Area Manager Filtration, Ahlstrom Italy
I joined the company by complete chance but it was certainly love at first sight. As the newest member of the Sales team, I was assigned to countries that differed greatly from what I was used to. My first trip was to Iran and it turned out to be such an incredible experience. Then it was Turkey, Saudi Arabia, the Middle East and almost all of Eastern Europe. At that time, traveling in these areas was a lot trickier but the upside was that every trip became pure adventure!
The Euro was not yet in place, so each country had its own currency, making sales work even more challenging and exciting. My sales skills and experience developed day-by-day, and my responsibilities grew too – before long I was responsible for Italy, Spain and France.
I married in 1998 and by 2000 I was attending the company's JUMP program (a strategy-based leadership development program for younger employees with a willingness to grow). It's so nice to see some of my colleagues from that course are still with the company.
2002-2013: Various Sales roles including Sales Director, Ahlstrom Spain Sales Office
In 2002 I moved to Barcelona to explore new work experiences and Ahlstrom offered me a new position in the local sales office. There, I started working for many Business Units inside the company, which allowed me to meet new colleagues and become experienced in other products and applications.
During the years I gained more responsibilities – something that was largely due to the merger between our Madrid and Barcelona offices. In the end I became Sales Office Director, with a team of 8 people to lead.
The business was strong and growing steadily. When the demerge with Munksjo happened, my workload increased massively!
It was during this period that my two sons were born (now 17 and 14) and I took up tennis as my main hobby (in addition to becoming a BMW biker 😊). In 2013, I was appointed Sales Director, Filtration EMEA and I recognized that my future was back home in Turin at our HQ for Filtration – but that's the next part of the story…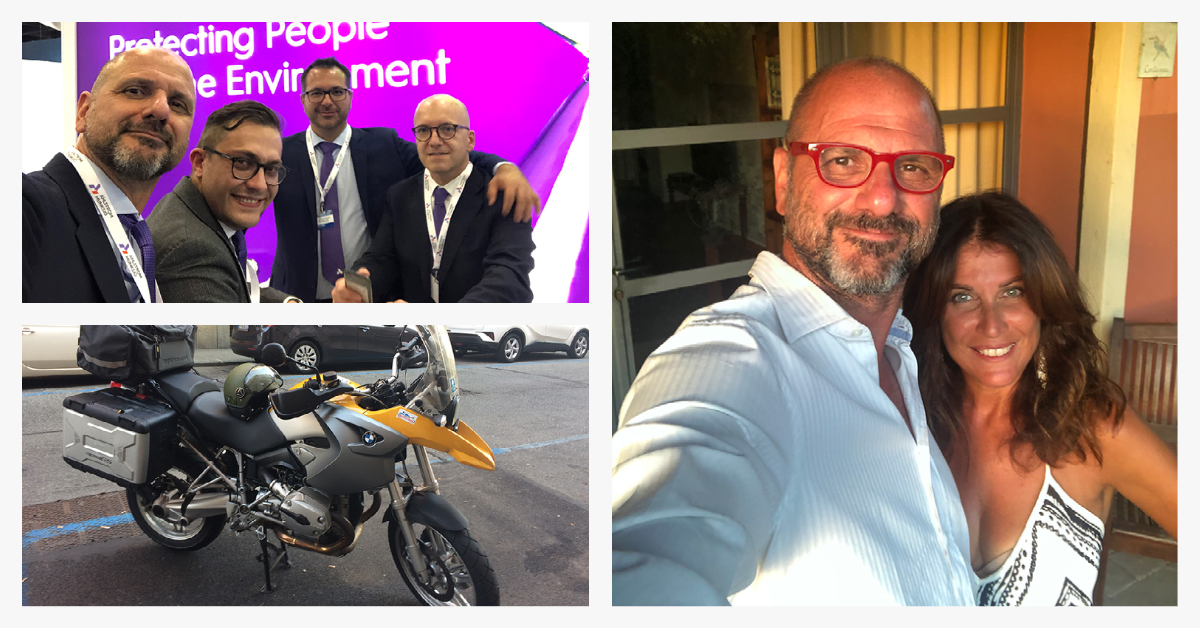 2013-present: Head of Sales Filtration, Ahlstrom/Ahlstrom-Munksjö Italy
When appointed Sales Director Filtration EMEA, I remained in Barcelona for a few months. But then I was requested to move to Turin to better follow my new job.
At that time, I had contradictory feelings. In one sense I was unhappy to leave Spain, where I had made many friends over 11 years. But then again, I was really happy to come back to Turin – where I could be closer to my parents and old friends. In the end, we travel a lot only to discover the best place to live is at home.
During this recent part of my journey with the company, I covered various roles but always in Sales. There has been a particular focus on developing Industrial filtration and I was recently absorbed by the facemask project (as a result of the tragic COVID-19 pandemic).
From old colleagues to new ones – what I have noticed over the years is that we all share the same passion. The new generation is coming with a different mindset and approach but they too wish to give the best to our company.
I still feel very excited, operative and enthusiastic in my job but also a little wiser and perhaps calmer too. My new challenge is trying to transfer some that experience onto newer colleagues 😊
I still play tennis and ride my BMW – and I'm also preparing to move to a new house that I'm sure will take up a LOT of my time.
In my work life, Ahlstrom-Munksjö gives many opportunities to those who wish to tackle important challenges – so I'm here and ready for the next one.
Careers at Ahlstrom-Munksjö
Looking to take the next step in your career – or maybe start a new one? At Ahlstrom-Munksjö we have positions in various fields in locations across the globe.
View our open positions today