Ahlstrom-Munksjö Aspa mill delivers certified high-quality pulp made of locally sourced wood
Ahlstrom-Munksjö not only uses a large amount of pulp in their manufacturing but also serves the global pulp market through its market pulp mill in Aspa, Sweden, that focuses on specialty high-quality pulp.
Started in 1927, the Aspa pulp mill uses clean water to produce pure, high-quality pulp. Many of its customers demand pure pulp, and in many cases choose a supplier based on the purity they can provide. The secret behind the high purity of the Aspa pulp is in the quality of the water that is sourced from the nearby Lake Vättern.
Pure pulp of locally sourced wood raw material
The mill uses pine and spruce as their raw material. The wood raw material is fully traceable and sourced within 150 km radius from the mill. The Aspa pulp is certified for PEFC™ and FSC®.
"Our wood is sourced from a co-owned company, which provides us security of supply and ensures responsible forestry management as we have control of the full supply chain," explains Aspa mill's Wood Sourcing Manager Jessica Svensson.
Supporting sustainable business
Aspa produces two types of pulp - Elementary chlorine free (ECF) pulp and Unbleached Kraft pulp electrical grade (UKP-E). Europe represent half of sales, leaving the other half of the sales for the rest of the world. The chlorine free, bleached pulp is used for hygiene products, printing paper, transparent paper and food containers. Unbleached kraft pulp is a specialty pulp mainly produced for electrotechnical papers that require high purity to achieve low conductivity. Other applications include also glass interleaving and greaseproof papers as well as coffee filters.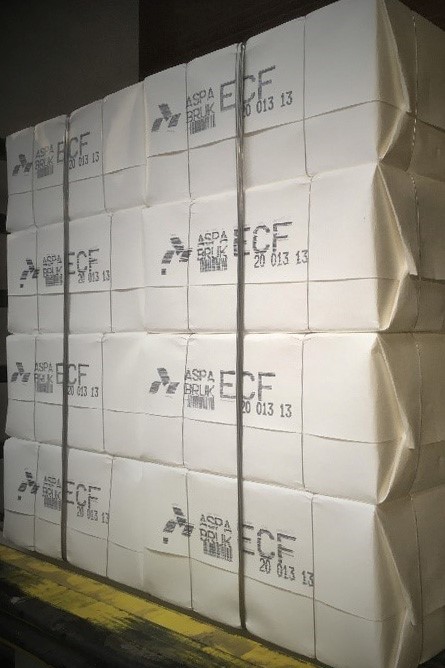 Lignin, the material that binds the wood fibers together, is recovered during the production process and burned as a fuel. It takes care of 75% of the mill's electricity requirements. Additionally, the part of the wood that is not turned into pulp is used for energy production in the mill's chemical recovery line.
The byproducts derived from the actual production process such as tall oil and turpentine are also sold externally to manufacture paint, glue, and perfumes, among other things.
Customers appreciate excellent customer service and short response times
Based on the results of Ahlstrom-Munksjö's recent customer survey of over 450 selected customers, our global pulp customers value the high quality of the pulp and see that it contributes to their pursuit of sustainable operations. They also appreciate the excellent service and short response times of the Aspa mill customer service team.
"I am very much looking forward to the installation of the improved post-screening system during our scheduled maintenance outage in October. The new system will further increase the purity of our specialty pulp," comments Head of Sales and Marketing at Aspa mill Anders Jansson.
Read more about Ahlstrom-Munksjö's Aspa pulp