Auditing abaca supply chains
Demanding specialty paper applications such as tea bags, coffee pods, fibrous meat casing reinforcements, and even N95 face masks require a lot from the fibers that are used to make them; extreme strength with no added chemicals. Abaca fibers can uniquely provide that since they are one of the longest and strongest natural fibers in the world.
Abaca, also called Manila hemp, is grown primarily in the Philippines and Ecuador. The largest producer is the Philippines, where the plant is cultivated on over 142 000 hectares by approximately 124 000 farmers, whereas in the second largest producing country, Ecuador, Abaca is grown on large estates. The farmers sell their leaf fiber to farmers' associations, who then supply the fiber raw material to abaca pulp manufacturers. Ahlstrom-Munksjö buys its abaca mainly as fibers, which are then transformed into Abaca pulp at the company's Radcliffe, UK facility, but Ahlstrom-Munksjö also purchases significant amounts of Abaca pulp directly from the Philippines.
The business is characterized by long-lasting relationships based on trust and loyalty. In 2017, Ahlstrom-Munksjö celebrated 50 years of partnership with Cooperativa Ecuador Abaca (C.A.E.), one of Ahlstrom-Munksjö's main suppliers in Ecuador, which is an independent farmers' association. Ahlstrom-Munksjö helped to establish this farmers' association, and the company remains to this day their sole customer. Thus, Ahlstrom-Munksjö has been instrumental in providing livelihoods to farmers across multiple generations over the past 50 years.
Today, all supply chains are under scrutiny from a broader sustainability perspective for compliance with social, environmental, and economic responsibility matters. Per Ahlstrom-Munksjö's sustainability policy, the company insists that all suppliers fulfill the requirements laid out in the company's Supplier Code of Conduct. Ahlstrom-Munksjö conducts audits of various suppliers, and the decision on who should be audited is based on our Global supplier risk management process and always a business decision. Ahlstrom-Munksjö audits suppliers either by themselves or in partnership with independent third party auditing experts. This audit process occurred last year in both the Philippines and Ecuador, respectively by Ahlstrom-Munksjö in the Philippines and by the company's independent partner and certification body, SGS in Ecuador.
Auditing in the Philippines
In the Philippines, all abaca fiber and pulp suppliers were audited against a compliance checklist based on Ahlstrom-Munksjö's Supplier Code of Conduct, divided into five pillars: Management responsibility, Human Resources, Human Rights, Safety and Environmental compliance. All suppliers passed the audit receiving scores higher than 70 % of the total score possible. The areas with non-compliance centered around lacking documentation and formal procedures. Comprehensive action plans were developed with the suppliers to close the gaps, and these plans are being followed-up on a regular basis.
Kalle Rantonen, Supplier Performance Manager at Ahlstrom-Munksjö, was part of the audit team and is in regular contact with the suppliers.
"It is rewarding to see the progress and ardor in the whole abaca supply chain in wanting to improve all aspects of the business," he says.
In an exclusive interview with Ahlstrom-Munksjö, Mr. Kennedy T. Costales, Executive Director of the Philippines Fiber Industry Development Authority (PhilFIDA), appreciated the support of Ahlstrom-Munksjö to the Philippines abaca industry over decades of business. PhilFIDA is an attached agency of the Philippine Department of Agriculture, dedicated to natural fibers.
"Our focus is on compliance and quality standards as well as improving the infrastructure to support the farmers while meeting the global demands for both quality and quantity." Mr. Costales explains and continues: "Our industry is historically rather disorganized, with the majority of abaca production done by small farmers having on average 1.2 hectares each. Also around 92% of abaca fiber is produced manually."
PhilFIDA has recently taken an initiative to create 'corporatives' run by corporate professionals in an organized way and using spindle stripping and decorticating machines. This will improve the quality of the fibers and increase their yield and subsequently improve the earnings for small farmers. PhilFIDA and Ahlstrom-Munksjö remain in close contact regarding auditing abaca exporters to the required compliance against PhilFIDA's guideline together with Ahlstrom-Munksjö's Supplier Code of Conduct.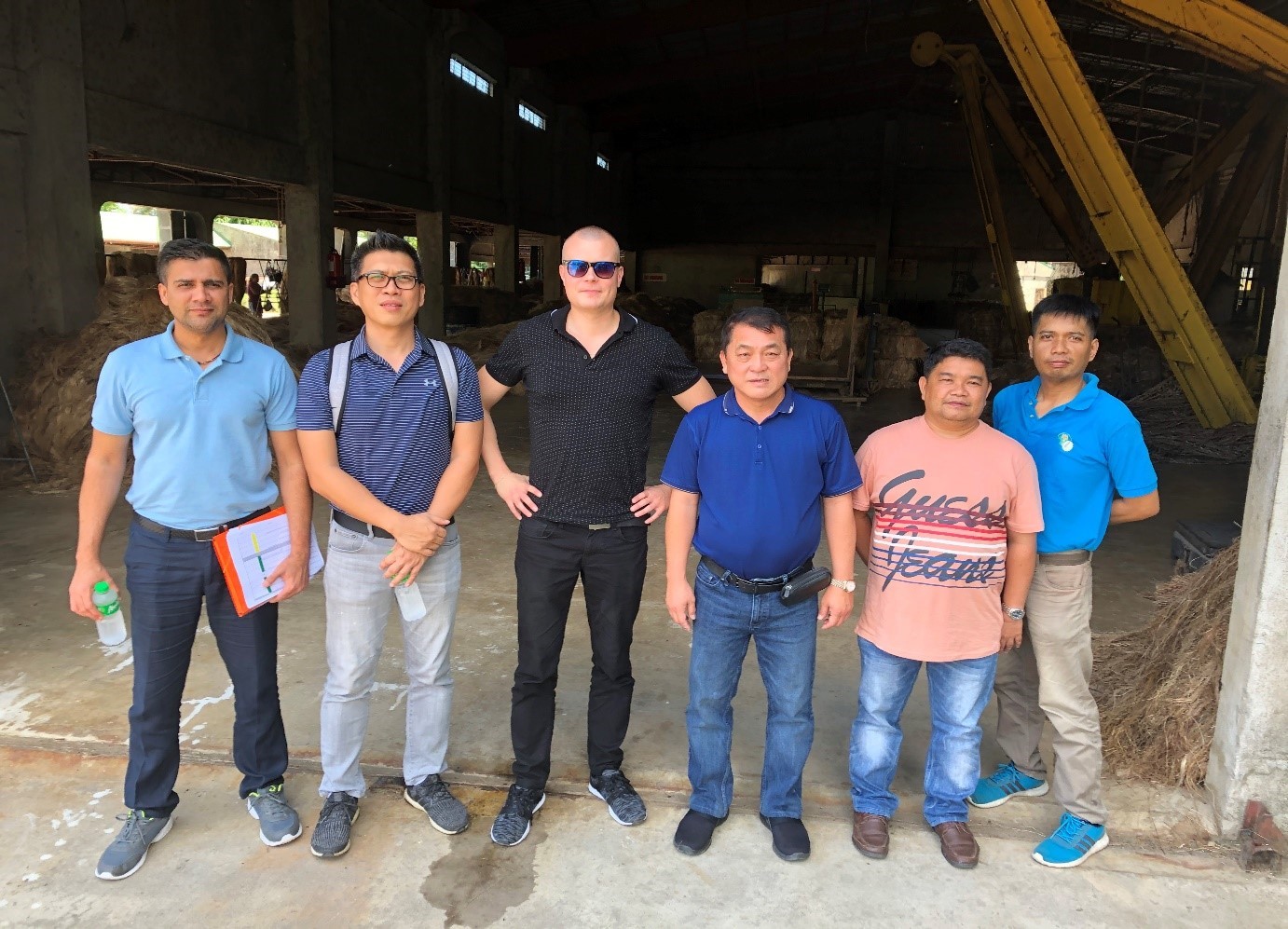 Auditing in Ecuador
In Ecuador, a different approach was taken in commissioning a third party to conduct the audits. These audits were performed according to the SMETA standards laid down by Sedex (Supplier Ethical Data Exchange, of which Ahlstrom-Munksjö is a member).
SMETA (Sedex Members Ethical Trade Audit) audits against a set of Corporate Social Responsibility requirements in four major areas: Human rights, Labor rights, Health, safety and working conditions, and Environmental Management. The audits covered abaca fiber production farms, the collection center and the administrative offices for the two farmers' associations. While the auditees demonstrated good collaboration throughout the process, discrepancies were discovered in all audit areas. Ahlstrom-Munksjö has therefore decided on a thorough training program to raise the level of awareness in the farmers' associations in important social responsibility matters.
"We want to continue our decades-long collaboration with our abaca suppliers and work with them to improve their performance and bring them on par with all our requirements in corporate responsibility matters. This we will follow in subsequent audits," concludes Bhavesh Soni, Corporate Category Manager of Annual Fiber at Ahlstrom-Munksjö.