Breast Cancer Awareness Month: Interview with Katia Veronese
October is Breast Cancer Awareness Month, an annual global campaign to raise awareness about the impact of breast cancer, focusing on the need for breast cancer screening worldwide and the intergenerational effects of breast cancer deaths. We discuss with Katia Veronese, Head of Sales EMEA and APAC for Ahlstrom's Healthcare division, about the important role of self-detection and community support, and her own experiences as a breast cancer fighter.
Early detection is key - what advice do you have?
From my experience, I can confirm that prevention is critical. We should follow routine checks based on continuous dialogue with the doctor of reference. On the other side, I also like to underline the importance of active listening to any signal that our body gives or any "different feeling" you have. This is what happened to me. Thanks to a "feeling," I anticipated my routine check, and my cancer was found.
Women of all ages are now affected by breast cancer. How can we advocate for our health and ourselves when we visit the doctor?
Indeed, it is very important to have an open dialogue with our doctor and to ensure we have a well-defined calendar for our routine checks. It's important not to compromise our health while focusing on day-to-day activities. Our life has value.
How do you recommend getting second opinions?
A second opinion is always necessary, as this is about our life, and we must have complete trust in the treatments offered. I strongly recommend not to start to surfing the internet to find information and statistics of survivors as we are all different, and each case is a personal case.
When someone is diagnosed with cancer or any illness, how can we help as coworkers and friends?
When you discover cancer, you can have multiple reactions. In my case, I decided to share my situation with colleagues and friends, as sharing my problem was like sharing the pain. When interacting with people who are discovered to have cancer, you should listen, care, and hug… Sometimes, we do not need too many words but just a big hug presents a huge message that no one is alone in this journey!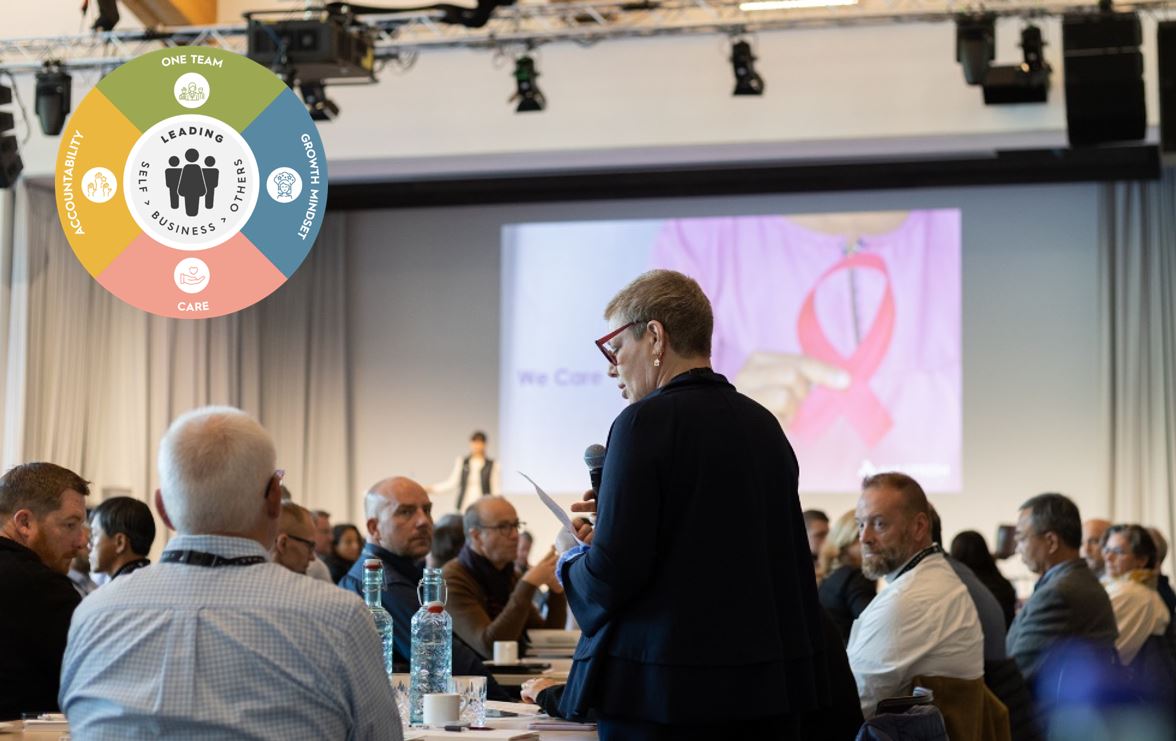 Image: Katia called for attention on breast cancer in our leadership seminar, October 2022
According to IARC – WHO, since 2020, female breast cancer has become the most commonly diagnosed cancer type globally: about 2.26 million women were diagnosed with breast cancer. Some brave fighters also face challenges when returning to work.
Ahlstrom is a global company, and our roots toward company-wide success always start with people and teams, supported by our unique culture and values. Ahlstrom aims to be an engaging and safe place to work. By continuing its drive for greater inclusion and actively working to create psychological safety, the company ensures every employee feels respected and safe. We will become more resilient as a company when we Care for each other and grow as One Team.