Family comes first: Tyler's journey at Ahlstrom-Munksjö
"Ahlstrom-Munksjö has always been very willing to work with me on a work-life balance."
Tyler Jumper
At Ahlstrom-Munksjö, we love to offer new and exciting opportunities to our employees. Tyler Jumper, one of our Sales Managers from the US, found himself in need of a new home and a new challenge – so we helped him get both.
Hello Tyler and thank you for taking the time to talk to us. Before we discuss your work life, why don't you tell us a little something about your home life and family?
Thank you for reaching out to me! I will start with my family (as they are the most important). I have a beautiful daughter who is now three years old. She is a wonderful handful that loves princesses and her bubba (our 6-year-old golden retriever). I have also been happily married to my wife for 6 years now. We met at the same college (Shenandoah University). She has a bachelor's in Fine Arts and I have a bachelor's degree in Business Administration with a focus on marketing and a Minor in Entrepreneurship. Prior to having our daughter, my wife was teaching dance to children ages 3-18.
Currently, we are living in Newville, Pennsylvania. This is my home town and where I grew up – it is also where I had always planned on raising my family. It's a very small town (it only has one stoplight!) so, as you can imagine, growing up here meant getting to know most of the residents.
I have a big passion for hunting and fishing from growing up in such a rural community. My parents' property is on the side of a mountain which gave me plenty of opportunities to become the avid outdoors man that I am today. I also love soccer and have been playing it since I was three. I have played at all levels including at the college where I met my wife. I believe sport is a foundation that teaches you how to both excel individually as well as in a team. Prior to moving back to Pennsylvania, our family lived in Madisonville (1 mile from the plant) and then moved to Hopkinsville Kentucky.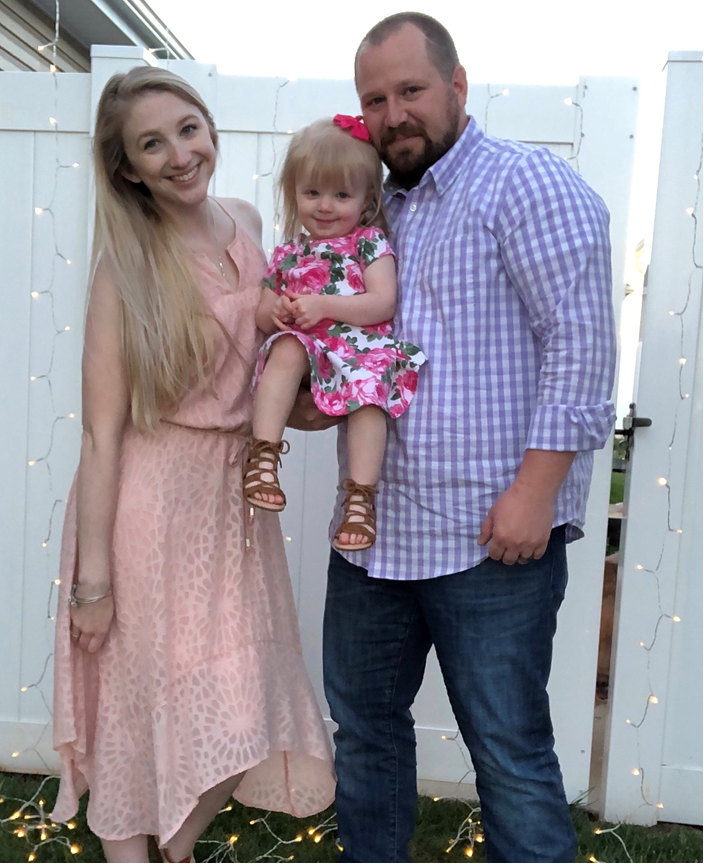 And now the professional you: what do you do at Ahlstrom-Munksjö and what does that look like on a day-to-day basis?
As for many of us, my day-to-day changed quite substantially after Ahlstrom-Munksjö had to put restrictions on travel. However, prior to the restrictions, 50-60% of my time each month consisted of traveling to meet with customers. I was part of a great team on the industrial side of the business where we were trying to constantly build and grow our net sales and volumes. Now most of my weeks, prior to my transition to Liquid Technologies business, were spent answering emails, setting up calls to continue to maintain and grow the business as well as following up on samples and new leads.
After more than three years with Ahlstrom-Munksjö, you recently transitioned from one business area (and geographic location) to another. Why and how did that come about?
The choice to move from Filtration to Liquid Technologies was made for two reasons. The first is that my wife and I wanted to move back closer to our families in Pennsylvania. We wanted our daughter to grow up knowing her grandparents. Although Facetime is great it is no substitute for seeing her grandparents in person. Now we are living in the same town as my parents and we are only a five-hour drive from my in-laws. Prior to this, we had to deal with a 13-hour car ride from Kentucky to see both sets of grandparents.
The second reason for my move is simply because I enjoy new challenges – something I think I have my mom to thank for. I grew up around the Mt. Holly plant where my mom worked. She started out as an Admin to Sales and grew with the company for over 23 years! I find this inspiring and when I was in high school, my mom took the Sales Manager position at Ahlstrom-Munksjö. I always told her that I would be coming for her job after I graduated from college.
With the move from Filtration to Liquid Technologies, what will be the biggest challenge for you and what advantages does your experience give you?
The biggest challenge will definitely be learning new products but I have a great team to teach me. I have known many of the team members from Mt. Holly since grade school and, because of this, I have faith they will help me through the learning process.
As for the advantages, I believe the knowledge that I have in the filtration world will aid in a fast learning curve of the products. Lastly, I believe my drive to be successful coupled with my eagerness to meet and talk with new people will aid in building great relationships with the book of customers that will be handed to me.
You've been at Ahlstrom-Munksjö 3+ years now. How would you describe work-life and the culture here?
I came from the retail sales industry where the pressure to sell daily was very high. This pressure was always coupled with the fear of losing your job if targets were not met. However, being successful in that industry I was able to get promoted quite rapidly and tried to change that culture for the sales reps on my team – but sadly, despite my best efforts, the culture remained.
Upon my hiring at Ahlstrom-Munksjö things quickly changed for me. The pressure to sell just for a sale went way down along with my stress levels. Here, it is more important to partner with customers and understand their needs while providing great products and services.
My daughter was only weeks old when I joined the company and moved to Kentucky but Ahlstrom-Munksjö has always been very willing to work with me on a work-life balance. My bosses have always been great any time that I needed to take our daughter to the doctor or needed to work from home so that my wife could go to her doctor's appointments for her autoimmune disease. I would say Ahlstrom-Munksjö has always looked after employees and their families. I cannot thank the filtration team enough for all the help that they gave me in allowing me to take care of my family when needed.
Lastly, I would say that in every plant that I have been to it seems as if the employees all get along in and outside of the workplace. Everyone cares about you as a person and not just your work – and because of this, I believe we as employees are more willing to do what needs to be done for others to get the job done.
And finally, what advice would you give to anyone looking for a career in sales like yours?
I would say to anyone who enjoys building new relationships, solving problems and learning new products: apply for a sales position. Always be willing to learn something new, ask a million questions then ask some more. Also, find a good school that has practical core classes for the industry you plan on getting into. Although I am grateful for my education, it was costly. I believe you will learn so much more in the industry then you ever will in a classroom but always remain teachable.
I wish I would have taken the time in my senior year of college to really dive deep into a specific career path and focus on that more intentionally than the time I had put into playing sports. I am fortunate that I found a great company to work for, it took me some time to get here but I look forward to the future.
Careers at Ahlstrom-Munksjö
Looking to take the next step in your career – or maybe start a new one? At Ahlstrom-Munksjö we have positions in various fields in locations across the globe.
View our open positions today