Material matters in face masks – Ahlstrom-Munksjö produces civil face mask fabrics that have a unique filtration technique and high efficiency
Ahlstrom-Munksjö has a long history with fibers and is recognized for its solutions in a wide range of end-uses including biodegradable and compostable food and beverage packaging, tea bags and coffee capsules, air and water purification, tape backings, protective medical fabrics and many more.  
 
For decades Ahlstrom-Munksjö has manufactured fabrics used to construct surgical gowns and drapes, surgical face masks, protective apparel and sterile barrier systems. These high performing medical fabrics are used around the world in operating rooms and clinical environments to protect health care workers and patients against viruses, bacteria and fluids.  
 
Not all medical fabrics are created the same way; they have different levels of protection and properties for breathability and comfort. Some fabrics are highly breathable, which helps to keep the wearer cool and comfortable but have limited barrier protection. Some offer a high level of barrier protection but are not breathable. Having a technology that offers both protection and comfort is difficult to achieve, which Ahlstrom-Munksjö offers after years of product development.  
 
"When the COVID-19 broke out, we realized that our expertise and global production platform could be used to answer the growing need of face mask materials both in healthcare and civil use. In Finland, there was demand for a high quality domestic solution that we wanted to respond to," says Otto Kivi, Sales Manager at Ahlstrom-Munksjö's Filtration business.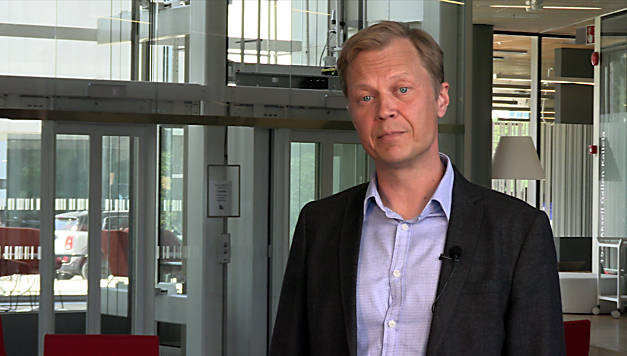 Ahlstrom-Munksjö quickly expanded the production of face mask materials globally to production lines normally used for other products. In Finland the plant in Tampere, which is dedicated to production of industrial filtration materials, expanded into materials for civil face masks to help out the situation. Collaboration with Finland-based partners started in April and civil face masks made from Ahlstrom-Munksjö's fabric are available through retailers in Finland.  
Differences between normal textile and filter fabric using mechanical filtration    
"The high quality wet laid nonwoven materials produced in the Tampere plant are applicable for both civil and surgical face masks. The 3-layer filter fabric does not need any additional protection layers. The filtration efficiency is based on unique mechanical filtration. The advantage of this technology compared to the commonly available electrostatically charged material is its durability. Protection efficiency of electrostatically charged materials is lost overtime, whereas protection efficiency of a mechanical filter media remains intact longer," explains Otto Kivi.   
 
"The filtration efficiency of the material from Tampere for civil face masks is over 85%, based on the measurement made by VTT Technical Research Centre of Finland, which is twice as high compared to cloth face mask materials and actually not too far from the efficiency level of surgical face masks," he adds. 

The French association, AFNOR, has released AFNOR SPEC S76-001 "Barrier Masks" - a standard that establishes minimum requirements for filtration efficiency of civil face masks. It is among the few that has set a standard for civil face masks. Based on this measuring method, the filtration efficiency of the material produced in Tampere is almost 100% and thus clearly higher than the French AFNOR SPEC S76-001 Category 1 standard applied on masks used by professionals in direct contact with the public.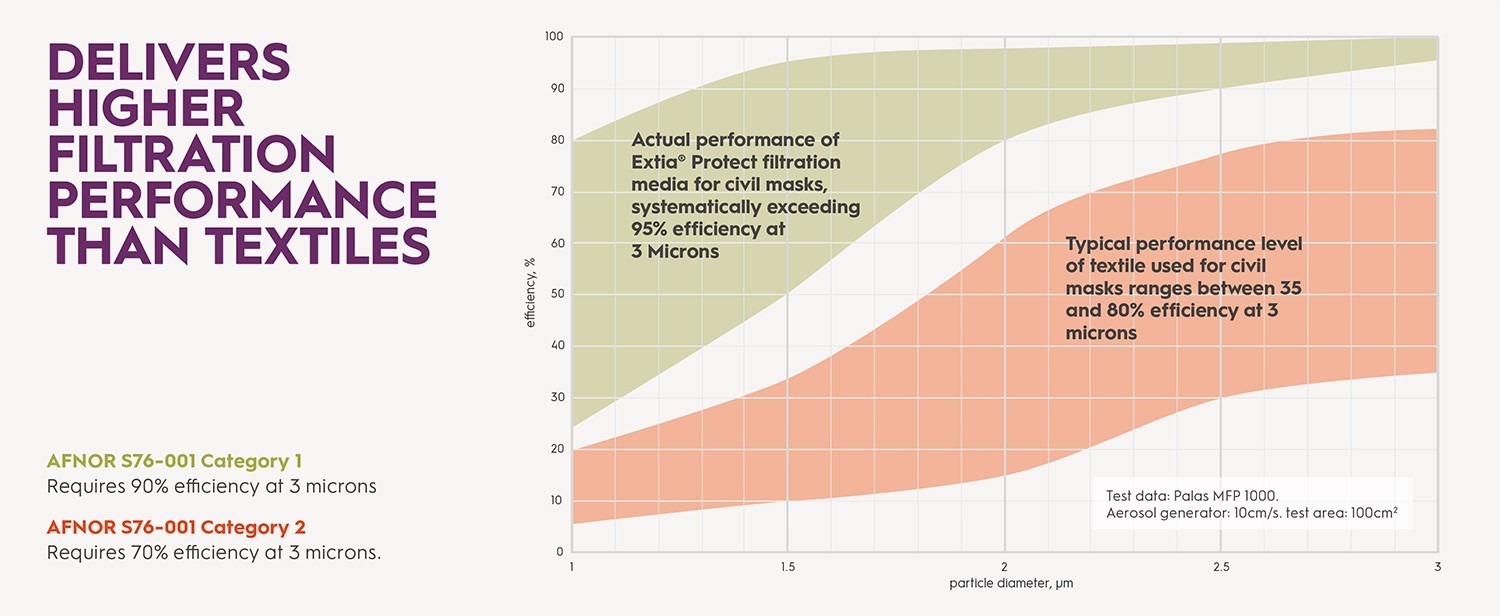 Image above: The filtration efficiency of the material produced in Tampere is almost 100% at 3 microns based on the French measuring method for civil masks. The Tampere material is part of Ahlstrom-Munksjö's Extia® Protect portfolio of face masks materials.
As people return to public life, it is important to act responsibly to avoid a new wave of restrictions if infections increase again. To prevent recurrence of the spread personal hygiene and social distance are most important, while the use of proper face masks is an effective alternative in situations where social distancing is compromised, e.g. in public transportation.   

"The use of a civil face mask is an excellent way to reduce the spread of the virus in places where you need to be in close contact with other people. It is good to remember though that the efficiency levels differ between different face mask materials, so it is in our common interest to compare the face mask materials for the best comfort and filtration," Otto Kivi concludes. 

From fibers to face masks


Ahlstrom-Munksjö, Filterpak and K Group produce and supply face masks for civil use in Finland.