Prevent injuries in the workplace with the "Take 2" risk assessment
World Day for Safety and Health at Work by ILO is celebrated annually on April 28 to promote the prevention of occupational accidents and diseases globally. Towards a zero-injury workplace and building a positive health and safety culture are Ahlstrom-Munksjö's critical drivers in the company's "Take 2" campaign this year.
T-A-K-E 2 stands for Talk – Action – Knowledge – and Equipment. For several years, "Take 2" has been in practice at many Ahlstrom-Munksjö plants in various formats, including "15 seconds for safety", "Nimm Zwei", "Take Four Seconds to Think", and "STOP". Ahlstrom-Munksjö's personnel can avoid a safety mishap or injury by caring enough to act, at work or home.

This spring, Ahlstrom-Munksjö rolled out a localized "Take 2 For Safety" campaign at all of its plants and offices in 14 countries. At the heart of everything, the company encourages its employees to take 2 minutes to assess a job task for any risks. The more personnel pay attention, the more pairs of eyes are available to identify, report, and neutralize possible hazards.
Rune Årnes, VP of Health, Safety and Continuous Improvement, with Frank Bell, Health & Safety Manager in Kaukauna, discussing the importance of Take 2.
Rune Årnes, VP of Health, Safety, and Continuous Improvement, is excited to launch the global campaign: "There is nothing we do which is so urgent that we would cut corners on safety to achieve it. By analyzing the injuries, we have had in the past years, taking 2 minutes to assess risks before jumping onto a task would have prevented most of them."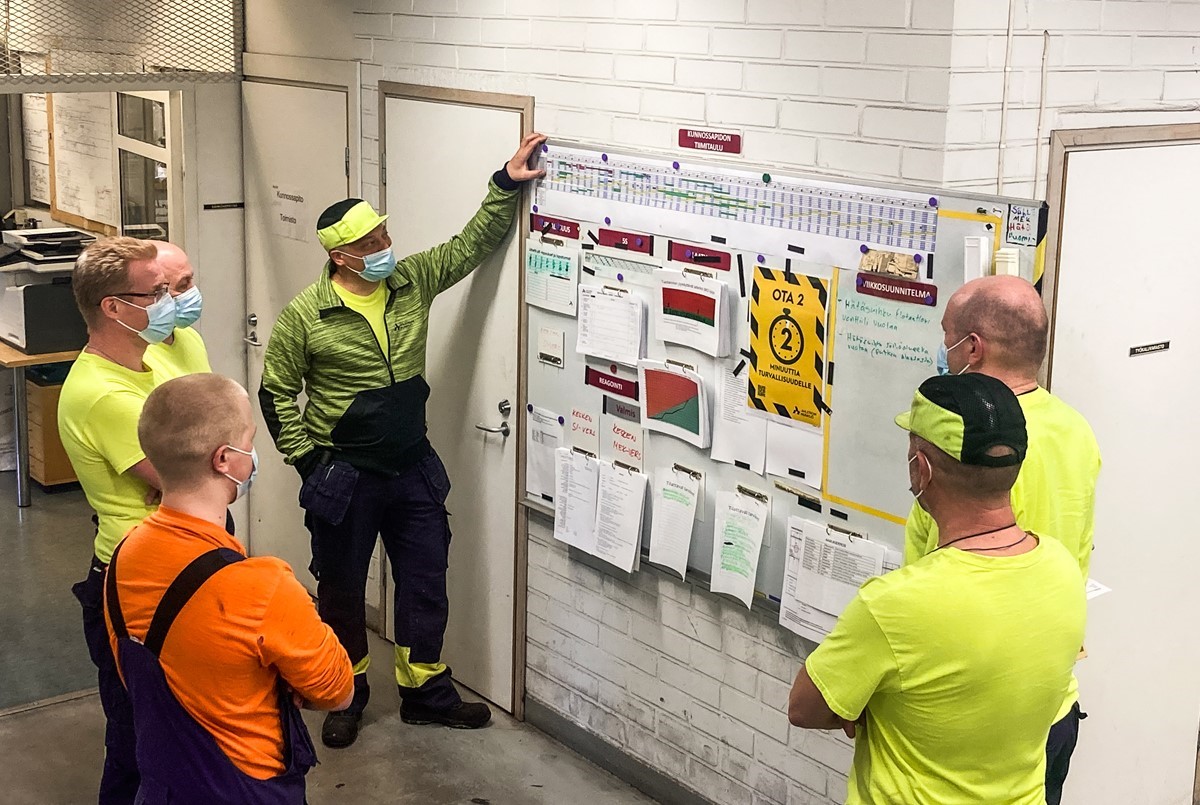 Ahlstrom-Munksjö aims at being a workplace without injuries as it builds on sustainability, including safety, in everything it does. This global campaign also supports the company's strategy of strengthening the safety culture for all employees, contractors, and visitors on its sites built on local responsibility and accountability.

When safety at home equals safety at work, it is also essential to apply this same mindset to everyday life. "Take 2" – the small decisions we make daily are the main thing leading us to better performance, not only in safety but in all we do.
Read more about Ahlstrom-Munksjö's safety work in the Sustainability Report 2021.