Ahlstrom-Munksjö formaliza compromisso com o Pacto Global da ONU
(see English version below)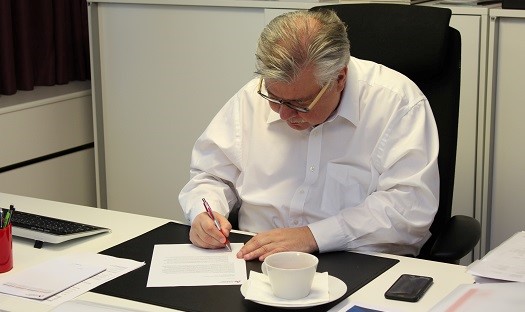 Jan Åström, president and CEO of Ahlstrom-Munksjö, signs the Global Compact commitment
Em novembro de 2017, a Ahlstrom-Munksjö comprometeu-se com os dez princípios do Pacto Global das Nações Unidas, reafirmando seu compromisso com as práticas comerciais éticas e responsáveis, em toda a cadeia de valor.
A companhia está agora entre as cerca de 8 mil empresas que documentaram sua dedicação ao respeito dos direitos humanos e trabalhistas, da qualidade ambiental e das práticas anticorrupção, em todo o mundo. Como signatária, a empresa assume dois grandes compromissos:
Melhorar continuamente suas operações comerciais, para que o Pacto Global e seus princípios tornem-se parte da estratégia, da cultura e das operações do dia-a-dia;
Publicar anualmente o progresso dos seus esforços para implementar os dez princípios no site do Pacto Global das Nações Unidas, garantindo a transparência a todas as partes interessadas.
Como exemplo de ação relacionada aos compromissos assumidos, pode-se citar um programa de treinamentos direcionado a todas as plantas no mundo, com o objetivo de integrar os princípios do Pacto Global às operações locais e definir ações concretas que em prol dos objetivos das Nações Unidas, no decorrer de 2018.
O primeiro deles foi realizado em janeiro, em todas as plantas e em todas as áreas, para reforçar os princípios do Código de Conduta da companhia aos colaboradores. "O Código foi definido com base nos nossos valores e no nosso compromisso com a ética, a responsabilidade e o respeito às pessoas. Estar em desacordo com ele não é uma opção, por isso mesmo temos o dever de garantir que todos, sem exceção, conheçam e entendam quais são as nossas diretrizes para lidar com os dilemas e os desafios do dia-a-dia", afirma Marcos Galetti, Gerente Executivo de Recursos Humanos da Ahlstrom-Munksjö Brasil.
Fundado em 2000, o Pacto Global das Nações Unidas é uma iniciativa mundial para inspirar os líderes das empresas a aderirem e a divulgarem o progresso nas práticas comerciais socialmente responsáveis ​​e ambientalmente sustentáveis.
---
Ahlstrom-Munksjö formalizes commitment to the UN Global Compact
In November 2017, Ahlstrom-Munksjö committed itself to the ten principles of the United Nations Global Compact, reaffirming its commitment to ethical and responsible business practices throughout the value chain.
The company is now among some 8,000 companies who have documented their dedication to respecting human and labor rights, environmental quality and anti-corruption practices around the world. As a signatory, the company has two major commitments:
Continuously improve its business operations, so that the Global Compact and its principles become part of the strategy, culture and day-to-day operations;
Publish annually the progress of its efforts to implement the ten principles on the United Nations Global Compact website, ensuring transparency to all stakeholders.
As an example of action related to the commitments assumed, it is possible to mention a training program directed to all the plants in the world, with the objective of integrating the principles of the Global Compact to the local operations and defining concrete actions that in support of the objectives of the United Nations, in the course of 2018.
The first of them was held in January, in all plants and in all areas, to reinforce the principles of the company's Code of Conduct to employees. "The Code has been defined based on our values ​​and our commitment to ethics, responsibility and respect for people. Being at odds with it is not an option, so we have a duty to ensure that everyone, without exception, knows and understands our guidelines for dealing with the dilemmas and challenges of our day-to-day life", says Marcos Galetti, Executive Manager of Human Resources at Ahlstrom-Munksjö Brazil.
Founded in 2000, the United Nations Global Compact is a global initiative to inspire business leaders to adhere to and spread progress in socially responsible and environmentally sustainable business practices.