A partir de setembro de 2019 a A-M Jacareí contará com tecnologia state-of-art no revestimento de papel
(check out the English version below)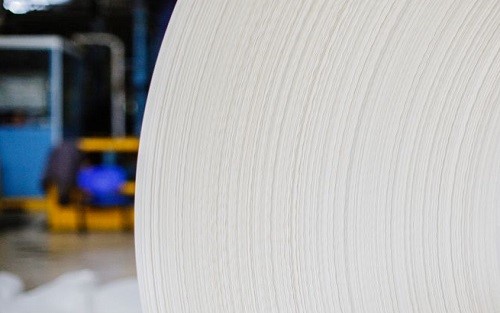 Após aproximadamente 1 ano de planejamento, a Ahlstrom-Munksjö Jacareí está muito próxima de efetivar o maior investimento da unidade nos últimos 10 anos – 100 milhões de reais para melhorar e aumentar a capacidade de revestimento da unidade. Este investimento atenderá uma demanda latente dos clientes da América do Sul por maior com uma oferta e qualidade de papéis especiais revestidos (couchê L1) de alto valor agregado, que tem crescido na região nos últimos anos.
A instalação dos novos equipamentos ocorrerá em agosto de 2019 e a partir de setembro já teremos novos papéis revestidos L1 produzidos com esta nova tecnologia na unidade – revestimento na máquina de papel. No projeto foram determinados 6 aplicações como foco de atuação e desenvolvimento: frontal de autoadesivo, release liner, rótulos colados, embalagens flexíveis, embalagens acopladas e sublimação.
Nas aplicações de rotulagem e etiquetagem (autoadesivo e wet glue) temos profundo conhecimento técnico potencializado pelo forte relacionamento com os clientes e um importante portfolio de produtos que nossa empresa oferece ao mercado, cria um know-how, que possibilita enfrentar o grande desafio de desenvolvimento de novos produtos que sejam adequados.
Desde o final de 2018 já estamos em conversas com os todos os laminadores e gráficos parceiros para apresentar o Projeto Metering, iniciar a negociação comercial e definir o plano de homologação dos novos papéis para estes segmentos – liner couchê CCK e papel couchê L1 para frontal de autoadesivo e rótulo wet glue. Para antecipar o movimento de análise dos novos produtos, estamos circulando no mercado amostras de pré-marketing em branco, laminadas e impressas para que todos os nossos parceiros tenham a possibilidade de avaliar a qualidade dos papéis – papéis estes produzidos com tecnologias similares as que serão instaladas em Jacareí.
Nosso planejamento de produção no retorno da maquina de papel em setembro contempla espaço na sequência para atender o volume normal de faturamento da nossa carteira de clientes e tempo de máquina para os novos desenvolvimentos, devido à redução no volume de papel não revestido de exportação. Com este audacioso plano e apoio dos nossos parceiros, temos o objetivo de aprovar internamente e homologar no mercado nossos novos papéis revestidos L1 para o segmento autoadesivo e de wet glue em 2019.
No caso das outras aplicações determinadas para o Projeto Metering, iniciamos no começo de 2019 contatos com players do mercado para entender as características técnicas demandadas e analisar a viabilidade técnica para implementá-las em nossos ativos. Isso nos permite antecipar o movimento de desenvolvimento para garantir no máximo a homologação no mercado no 1º trimestre de 2020.
É importante ressaltar que estamos em conversas com todos nossos clientes para garantir que tenhamos em estoque, durante a parada da máquina de papel em agosto de 2019, todo o volume necessário de papel para atender suas demandas no período – o coater off-line estará em funcionamento no período para revestimento do papel base estocado.
Temos a certeza que contaremos com o apoio de nossos parceiros na parada e no processo de homologação de papéis para sairmos fortalecidos deste período com produtos de alta qualidade e competitividade que atendam melhor toda a cadeia produtiva.
---
From September 2019, A-M Jacareí will have state-of-art technology in paper coating
After approximately one year of planning, Ahlstrom-Munksjö Jacareí is very close to making the unit's largest investment in the last 10 years - 100 million Reais to improve and increase the unit's coating capacity. This investment will meet a latent demand from South America's largest customers for a higher offer and quality of specialty coated one-side papers (C1S) that has grown in the region in recent years.
The installation of the new equipment will take place in August 2019 and from September we will have new C1S papers produced with this new state-of-art technology in the unit - coated on the paper machine. In the project were determined 06 applications as a focus of action and development: self-adhesive labels, release liner, wet-glue labels, flexible packaging, laminated package and dye sublimation.
In the labeling applications (self-adhesive and wet glue) the technical knowledge amplified with our strong relationship with the clients and product portfolio that our company provides worldwide creates an extensive know-how to face the big challenge to develop the demanded solutions.
Since the last quarter of 2018, we have been talking with laminators, printers and converters partners to present the Metering Project, to start the commercial negotiation and to define the approval plan of the new papers for these segments - CCK release liner , self-adhesive and wet-glue labels. In order to anticipate the analysis of new products, we are presenting to the market plain, laminated, and printed pre-marketing samples so that all our partners have the possibility to evaluate the quality of the papers produced with similar technologies as the one being installed in Jacareí.
Our production planning on the return of the paper machine in September contemplates space in sequencing to meet the normal billing volume of our customer portfolio and machine time for new developments due to the reduction in the uncoated paper export volume. With this audacious plan and support from our partners, we aim to internally approve and homologate our new coated one-side papers for the wet-glue and self-adhesive segment in the market in 2019.
In the case of other applications determined for the Metering Project, we have started in early 2019 contacts with market players to understand the technical characteristics demanded and to analyze the technical viability to the product development. This allows us to anticipate the development movement to ensure approval in the market in the first quarter of 2020.
It is important to note that we are under discussions with all our customers to ensure that we have in stock all the necessary paper volume to meet their demands during the paper machine shutdown in August 2019 - our off-machine coater will be working during the period for coating the stocked base paper.
We are certain that we will count on the support of our partners in the starting and in the paper homologation process, so that we will be strengthened from this period with products of high quality and competitiveness that better serve the entire value chain.