"It's only our imagination that limits future products"
Contributing to a better world working for a global growth company attracted Pernilla to Ahlstrom-Munksjö.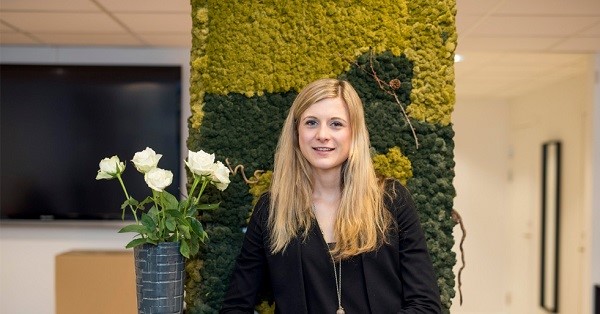 When Munksjö and Ahlstrom merged in April 2017, the company became a global leader in fiber-based materials. This was a step towards new challenges, new opportunities and some different tasks for Pernilla Ahlm, Business Development Manager.
–We are a team of three people who drive prioritized business critical projects across the company's business units. It is an encouraging and very diverse work.
There were several reasons why Pernilla wanted to work for Ahlstrom-Munksjö. The company is in a growth phase, in exciting niche markets with a high degree of specialization, and there is the opportunity to contribute to a better world.
–Only our imagination sets the limits. It feels great to work with products for the future, doing the world some good by developing fiber-based materials to replace environmentally harmful products. Imagine the impact when we can figure out how our fiber-based products can replace plastic.
Ahlstrom-Munksjö has 41 plants in 14 countries and more than 6,000 employees. Despite its size and global presence, the company has a genuine and down-to-earth culture. The sense of working in a small company is important in order to remain agile.
– An important cornerstone is that the organization remains flat and decentralized and that everyone feels accountability and freedom. Our large product portfolio provides a very interesting dynamic and complexity, regardless of what function you work in. Being global also means that we truly can offer career opportunities almost all over the world.
Employees can and are involved in setting the direction of both the company and of its future products. The brand's slogan is "Imagine Fiber".
–It definitely adds something extra to our daily work when the essence of what we do creates meaningfulness. What you do at work today can contribute to a more sustainable world in the end, which is hugely satisfying.

"I am very proud of the fact that we developed a solution that replaces aluminum and plastic in the caps on coffee capsules for single serve coffee solutions (such as Nespresso machines). The solution is an example of how we work with partners to develop more sustainable and environmentally friendly solutions", says Pernilla Ahlm Business Development Manager at Ahlstrom-Munksjö.
Open positions at Ahlstrom-Munksjö