MEDICA 2017
Ahlstrom-Munksjö to showcase latest advancements in Diagnostics and Laboratory Filtration at MEDICA 2017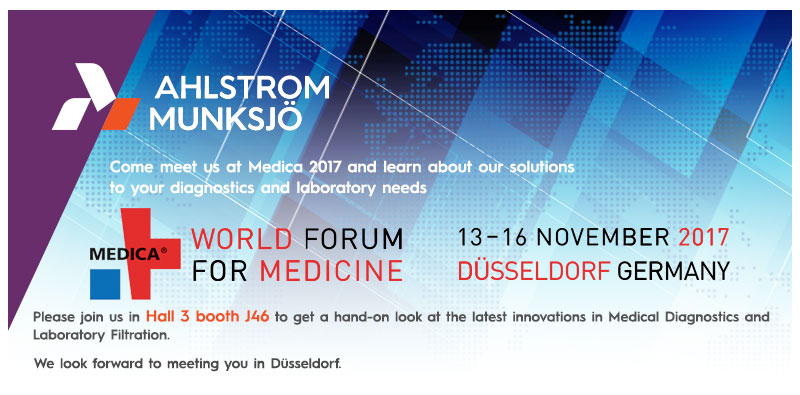 Yet another year, Ahlstrom-Munksjö will be exhibiting at MEDICA, the world's leading trade fair for the medical industry. As usual, the event will be held in Düsseldorf, Germany, November 13th-16th 2017.
Over 5,000 exhibitors from 68 countries will be present, introducing the latest technologies to an international audience of business leaders in the industry, experts and decision-makers from the sector.
Yet again, MEDICA 2017 will be an ideal window for Ahlstrom-Munksjö to showcase our advancements and solutions in the diagnostics and laboratory fields.
Visitors will be able to have a hand-on look at our complete portfolio of specimen collection cards, specifically designed in order to provide simple collection, long-term preservation of biosamples at ambient temperature and high quality genetic profiles. Some of their features, such as full customization and the suitability of the products to fit with main automated equipment, bring a significant contribution to the continuous commitment of Ahlstrom-Munksjö to meet our customers' needs and accommodate their requirements. Additionally, our specimen collection products now boast the "ISO 18385 Forensic DNA Grade" label, being manufactured using the control measures specifically identified in order to minimize the risk of human DNA contamination, further increasing their quality and reliability.
Our wide range of high quality absorbent filtration media for the manufacturers of In Vitro Diagnostic (IVD) devices will also be on display at the event. Our constant innovation provides the rapid kit manufacturers high quality pads, ideal to facilitate the production and reduce the variability. Designed for lateral flow assays, our customizable media are produced under closely monitored and tightly controlled conditions, guaranteeing the highest level of purity, consistency and quality.
Ahlstrom-Munksjö is recognized worldwide as a leading manufacturer and converter of filtration, absorbent and specialized web materials. Our complete offer of high-quality laboratory filtration products, including qualitative and quantitative filter papers, glass and quartz filters, membrane and syringe filters for microfiltration applications, extraction thimbles, pH indicator papers and test strips, and other filters for specialized applications will be another main focus at the tradeshow.
Click on the following links to learn more:
DIAGNOSTICS
LABORATORY
For more information and to schedule a meeting, please contact:
Bianca Siccardi, Communications Manager, Advanced Liquid Technologies
bianca.siccardi@ahlstrom-munksjo.com, +39 011 9260209