Programa de visitas preventivas melhora a qualidade
(check out the English version below)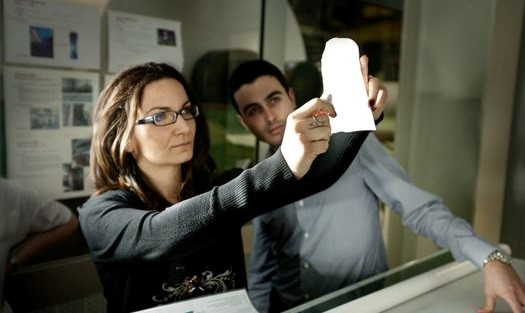 Há menos de um ano, a Ahlstrom-Munksjö Jacareí passou a adotar um processo que já apresentou avanços significativos nos indicadores de qualidade da planta: o Programa de Visitas Preventivas.
Como o próprio nome já sugere, trata-se de um programa de visitas realizadas visando a prevenção de ocorrências, que nos permite ter mais proximidade com os clientes e seus colaboradores diretamente ligados ao processo produtivo. Nesses encontros, normalmente nossos parceiros indicam oportunidades de melhoria de forma aberta, transparente e proativa, além de ser um ótimo exercício de reflexão a respeito de soluções ainda não consideradas.
Desenvolvido com a colaboração das equipes de qualidade, produção, manutenção, logística entre outras, o Programa tem transformado reclamações em oportunidades. Além disso, agora a área de TCS (sigla em inglês para Serviço Técnico ao Cliente) está 100% focada em priorizar a busca de informações e dados, em diversos mercados, que nos permitam lidar com as particularidades das demandas dos nossos clientes.
"Nós focamos no cliente!", afirma Francisco Souza, responsável pelo TCS. "Se ele não está satisfeito, nós também não estaremos. Não podemos só ouvir sua reclamação, temos que buscar identificar as causas e meios para mitigar novas ocorrências. E se ele não reclamar, ainda assim buscamos informações que podem prevenir ocorrências indesejadas", conclui.
Mesmo com a evolução atingida em 2018, temos a certeza de que podemos melhorar ainda mais. Neste sentido, a ampliação do Plano de Visitas Preventivas é fundamental para que possamos estar sempre à frente das ocorrências, nos antecipando no tratamento das causas de possíveis problemas e, assim, nos antecipando no desenvolvimento de soluções inovadoras.
Um bom exemplo disso é o papel de baixíssima gramatura PrintClassic Thin Paper 45 g/m² , desenvolvido para atender uma demanda do segmento de bulas de medicamentos identificada por meio de uma maior interação com nossos clientes. Para saber mais sobre essa solução, clique aqui
---
Preventive visits program improves quality
Less than a year ago, Ahlstrom-Munksjö Jacareí started to adopt a process that has already presented significant advances in the quality indicators of the plant: the Preventive Visits Program.
As its name already suggests, it is a program of visits made to prevent occurrences, which allows us to have more proximity to customers and their employees directly linked to the client operation. In these meetings, our partners usually indicate opportunities for improvement in an open, transparent and proactive way, and it is a great reflection exercise on solutions not yet considered.
Developed with the collaboration of quality teams, production, maintenance, logistics and others, the Program has turned complaints into opportunities. In addition, TCS (Technical Customer Service) is now 100% focused on prioritizing the search for information and data in a variety of markets that enable us to address the particularities of our customers' demands.
"We focus on the customer!", says Francisco Souza, head of TCS. "If he is not satisfied, we will not be either. We cannot only hear his complaint; we must identify the causes and mitigate new occurrences. And if he doesn't complain, we still seek information that can prevent unwanted occurrences", he concludes.
Even with the evolution achieved in 2018, we are sure we can improve further. In this sense, the expansion of the Preventive Visits Plan is fundamental so that we can always be ahead of the occurrences, anticipating ourselves in the treatment of the causes of possible problems and, thus, anticipating ourselves in the development of innovative solutions.
A good example of this is the very low grammage paper PrintClassic Thin Paper 45 gsm, developed to meet a demand for pharmaceutical segment indicated through an increased interaction with our customers. To learn more about this solution, click here