Treinamento é um pilar da melhoria contínua
(check out the English version below)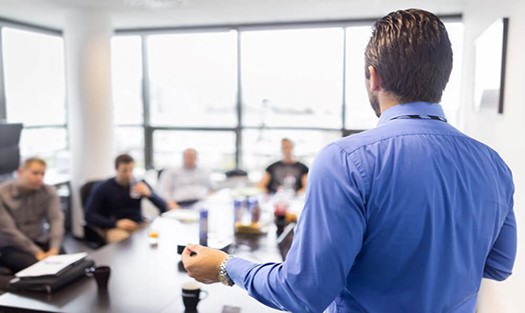 Educação e Treinamento é o nome de um dos Pilares do Programa de Melhoria Contínua da Ahlstrom-Munksjö, o TPM. Por meio dele, a planta de Jacareí intensificou a parceria com seus fornecedores para a aplicação de treinamentos voltados aos colaboradores da produção. Em 2017, o tempo investido em treinamentos por colaborador/ano teve um aumento de 48% em relação a 2016. Para 2018, a perspectiva é que esse percentual aumente ainda mais, com base no que já foi feito até então.
Além de excelentes meios de capacitação para os colaboradores, os treinamentos são ótimas oportunidades de atualização de processo e produto para os fornecedores, funcionando como um canal de comunicação perfeito dentro da cadeia. "É uma relação ganha-ganha: queremos melhorar nossos processos e os fornecedores também têm interesse em participar e transmitir um conhecimento que propicia uma melhor utilização de seus serviços e produtos", conta Regiane Reis, do RH da Ahlstrom-Munksjö Brasil.
Rodrigo Cintra, gerente de Produção da planta de Jacareí, é um entusiasta do programa, que conta com a participação de fornecedores e parceiros renomados no mercado, como a ABTCP, por exemplo: "senti a equipe muito motivada e focada nesse programa de capacitação. Os colaboradores mais experientes passam por uma reciclagem para refinar o conhecimento, enquanto os mais novos adquirem uma visão melhorada dos equipamentos e processos. Dessa forma, todos passam a atuar com mais precisão nas atividades e aproveitam os recursos disponíveis da melhor maneira possível", explica.
Mais conhecimento e oportunidades de discussão também propiciam a sugestão de novas ideias, que podem resultar em melhorias no processo. Segundo Rodrigo Cintra, "após a primeira série de treinamentos, pode-se observar o aprimoramento da qualidade do produto, uma redução de perdas e a melhor utilização dos recursos." O projeto, originalmente focado apenas na prevenção de erros, tornou-se um incentivo às melhorias e à viabilização do desenvolvimento de novos produtos, em parceria com a equipe de TCS (Technical Customer Service).
---
Training is a pillar of continuous improvement
Education and Training is the name of one of the Pillars of Ahlstrom-Munksjö's Continuous Improvement Program - TPM. Through it, Jacareí plant intensified the partnership with its suppliers for the application of training aimed at operational employees. In 2017, the time invested in training per employee/year increased by 48% compared to 2016. By 2018, the perspective is increase this percentage even more, based on what has been done so far.
In addition to excellent knowledge building for employees, training is a great opportunity for suppliers to update process and product with Ahlstrom-Munksjö, working as a perfect communication channel within the value chain. "It's a win-win relationship: we want to improve our processes and suppliers are also interested in participating and transmitting knowledge that makes better use of their services and products", says Regiane Reis, HR at Ahlstrom-Munksjö Brazil.
Rodrigo Cintra, production manager at Jacareí plant, is an enthusiast of the program, which counts on the participation of renowned suppliers and partners such as ABTCP, for example: "I felt the team was very motivated and focused on this training program. Experienced employees undergo retraining to refine knowledge, while younger employees gain an improved view of equipment and processes. This way, everyone starts to act with more precision in the activities and take advantage of available resources in the best possible way", he explains.
More knowledge and discussion opportunities also lead to the suggestion of new ideas, which can lead to improvements in the process. According to Rodrigo Cintra, "after the first series of training, one can observe the improvement of product quality, reduction of losses and better use of resources." The project, originally focused solely on error prevention, has become an incentive to improve and enable the development of new products in partnership with the Technical Customer Service (TCS) team