Innovative air filtration solution to protect indoor environments from COVID-19
The coronavirus pandemic has disrupted consumers' lives across the world. Until the vaccines create enough immunity, there will continue to be a risk of infection, even when the societies start to open again, and people get back to more normal life activities. The length of the pandemic will probably be a key determinant for if and how our way of life will permanently change and affect future business opportunities.
The new normal has required many companies to rapidly adapt, leverage their expertise and innovate. Thanks to its in-depth knowledge of fiber-based solutions Ahlstrom-Munksjö has been able to expand manufacturing of face mask fabrics to lines normally used for producing other fiber-based materials. Nowadays, its offering includes a full range of protective fabrics for medical and civil use face masks.
Indoor air filtration helps fight the viruses
Ahlstrom-Munksjö has also used its long-term experience and leadership in the manufacture of filter materials to develop a suitable media for indoor air filtration devices. Ahlstrom-Munksjö has established an effective partnership with Italian filter producer Virgis S.p.A for the distribution of an innovative HEPA filtration solution produced by Webasto. This innovative HEPA (high-efficiency particulate air filter) solution makes indoor environments safer against COVID-19 and other viral and bacterial organisms.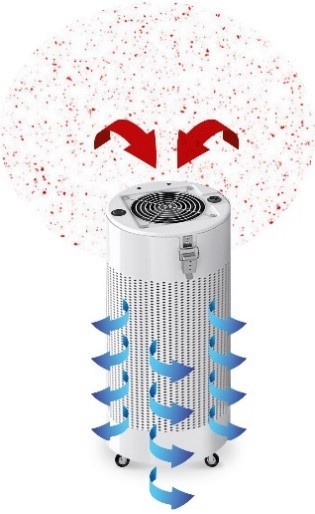 "We joined forces with Virgis S.p.A and Webasto on an exceptional journey with a shared goal to helping protect people and keep them safe. The expertise the three companies have in their respective fields, led to the development of this innovative air filter device, providing safer indoor environments. Through such a valuable partnership, we are leveraging our expertise in high efficiency filtration and stay committed to protecting people today and in the future," said Giuseppe Costa, Vice President at Ahlstrom-Munksjö's Filtration business.
The primary purpose of the filter solution is to protect the passengers and the operators in emergency vehicles, school buses and public transportation vehicles. Still, it is highly efficient also in other indoor environments like offices, restaurants, and museums. The first units were mainly installed in ambulances in Germany and the US, as well as in public buses in the Netherlands and school buses in the US. Ultra-compact and light, the devices can be installed in less than 30 minutes.
The device complies with the International HEPA Filter standards WHO / CDC / ECDC, and is compliant with European Medical Device Directive CE 47/2007.