Sanding robots : high tech solutions for the future
Emmanuel Bergerot, Sales Manager responsible for General Industry at KUKA, and Patrick Gascher, Sales Manager at Gebe2 can confirm it: industry is facing a shortage of labour in sanding. Sanding is a demanding work : workers, as well as being exposed to dust, frequently suffer from MSDs (musculoskeletal disorders) caused by strain, awkward posture, vibration, etc.
Robots, designed for repetitive, dirty and/or hazardous jobs, now offer some serious advantages for improving sanders' working conditions. They enable the automatization of certain tasks, eliminate arduous work and guarantee greater safety as well as consistent quality by limiting the scope for human error. Operators' job therefore acquires more value and their know-how is preserved.'
Machines able to adapt to every need
The possibility of using robots for sanding is still relatively little known. 'History has shown that industry has not always been easily convinced by the idea that machines can provide real added value in finishing operations,' explains Patrick Gascher. 'And yet it is an obvious fact. And sanding was the first process we started to develop more than seven years ago.'
Specialising in the integration of robot cells, Gebe2 proposes two types of solutions: '100% autonomous robots, which currently account for the majority of the market, are best suited to large parts and high speed production lines. The other technology is cobots.'
Cobots are collaborative robots which allow for a very high degree of freedom in the geometry of parts that can be sanded as well as a wide range of applications. They are ideal for slower, smaller scale production processes. Their other advantage lies in the total control enjoyed by the operator, who can generate his or her own programming.
'Cobots allow the strength, precision, endurance, repeatability and reliability of the robot to be combined with the flexibility, sensitivity, agility and creativity of the human. The perfect combination,' sums up Patrick Gascher. .
The trend is towards interactivity
Emmanuel Bergerot notes 'strong demand for hyper-connectivity, both simple and intuitive, between robots and users.' The latter can access the machine in real time via a mobile app 'to see its operating status, identify any faults, etc.'
This technology is also an asset for global companies who do not always have a dedicated expert on every site: 'Factories in different countries can exchange information on the process or technical problems and take the necessary measures quickly and efficiently.'
If you want to know even more about sanding robotization and how these trends impact coated abrasive, ask for newsletter n°15 :
ROBOTS THE SANDER'S BEST FRIENDS?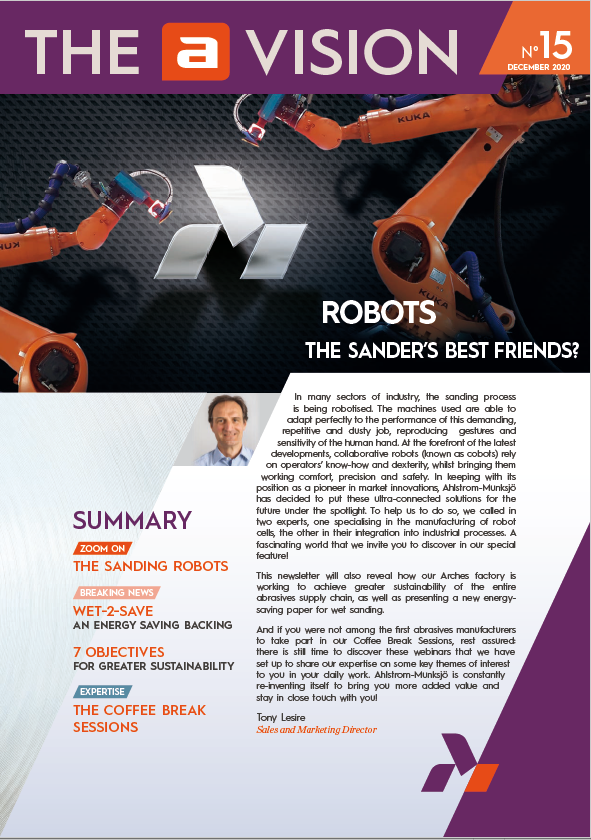 Request the newsletter
You will learn more about :
Abrasive and robot applications
Equipment choices
Sectors concerns
Constaints and requirements of robotization
Consumables used
Our tailored solutions