Less microplastic pollution through sustainable everyday life
Scientists, policymakers, and the general public are increasingly concerned about microplastic pollution and its potential impact on the environment and human health. Plastic particles have been found almost everywhere. Not surprisingly, particles also find their way into the human body. The impact on the environment and human health is still unknown.
Reducing the leakage of microplastics
Microplastics are tiny pieces of plastic material typically smaller than five millimeters. They can be divided into two main categories, primary and secondary, according to their source. Primary microplastics are directly released into the environment as small particles, e.g. from the washing of synthetic clothes or from abrasion of tires through driving. Secondary microplastics originate from the degradation of larger plastic objects, e.g. plastic bags and bottles.
By improving waste management and increasing recycling as well as by reducing the consumption of single-use plastics and the use of microplastics, the leakage of microplastics can potentially be curbed.
Recently, a study made by McGill University in Montreal, Canada, has attracted attention in the media, suggesting that plastic teabags release microplastic particles into the beverage during brewing. To our understanding, this research was made on 'plastic' teabags only, i.e. teabags made solely from synthetic polyester and nylon materials. This segment represents approximately 5% of the total teabag materials market. Ahlstrom-Munksjö is not involved in the production of this type of tea or coffee filter materials.
Sustainable tea and coffee filter materials from Ahlstrom-Munksjö
Sustainability is a key priority for Ahlstrom-Munksjö and we want to support our customers in their journey towards a more sustainable everyday life. Since 2008, we have worked on 'BioWeb' filter material. It is based on a bio-plastic made from PLA (polylactic acid) derived from corn starch or sugarcane, and it is biodegradable and certified compostable. Currently, this segment has grown to represent approximately one-fifth of Ahlstrom-Munksjö's total teabag material volume.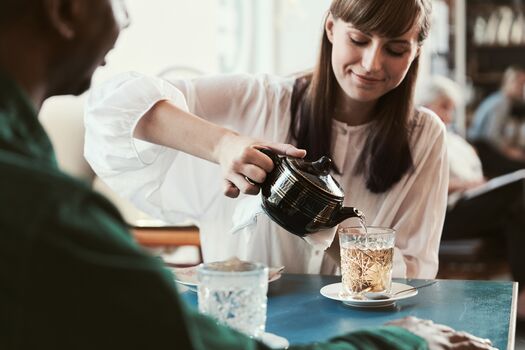 The majority of Ahlstrom-Munksjö's tea and coffee filter materials are made from abaca, which is a natural fiber growing in the Philippines and Ecuador. Nearly half of this filter material volume uses heat-seal fibers that are present in the paper to seal the tea or coffee inside the bag. Traditionally, this sealing material has been plastic. These plastic fibers form part of the paper and are fused within it. All of Ahlstrom-Munksjö's products are subject to rigorous safety testing and comply with various safety directives based on which we can assure the products are safe for consumers.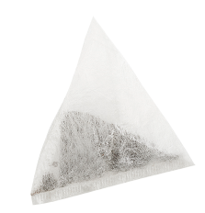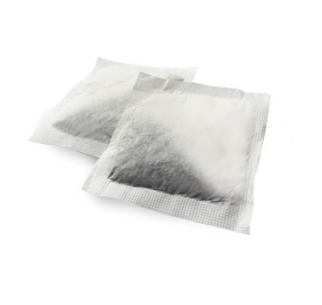 Ahlstrom-Munksjö also makes fully compostable and biodegradable tea and coffee 'Fiber+' filter materials that are similar to the traditional filter materials but that use PLA (polylactic acid) as the heat-seal fiber instead of plastic. Other tea filter materials do not use heat-sealable fibers and are commonly seen in 'string & tag' applications where the filter paper is folded and crimped to form the teabag.
Plastic-free solutions by Ahlstrom-Munksjö
Ahlstrom-Munksjö is one of the leading manufacturers of tea filter materials globally. Tea filter materials is a product segment within Ahlstrom-Munksjö's Beverage & Casing business. In addition to tea filter materials, our Beverage & Casing business makes materials for single-serve coffee solutions and fibrous casings with a focus on sustainability. The Beverage & Casing business represents approximately 3% of group sales. Key markets are in Europe and North America, while the business is global. Going forward we aim to continue to differentiate with unique plastic-free, biodegradable and compostable tea bag materials and single-serve coffee solutions.
Contributing to a more sustainable everyday life
Ahlstrom-Munksjö's sustainability work is rooted in our code of conduct and sustainability policy and is governed by our sustainable business council. As a participant of the UN Global Compact, we organize our sustainability work according to the United Nations Sustainable Development Goals as well as the material topics we identify and develop through dialogue with our stakeholders. With our product offering, we facilitate a more sustainable everyday life by providing solutions that have better performance and safer materials, use fewer resources and have a lower impact than alternative options. We continue to develop sustainable and innovative fiber-based solutions with the help of the EcoDesign Tool.
We have been recognized for our sustainability performance by receiving the EcoVadis Gold Rating for three consecutive years, and we will use our sustainable product offering and sustainability momentum to expand the role of fiber-based solutions for a sustainable everyday life.
Ahlstrom-Munksjö has a broad product offering, below are some examples of sustainable solutions with lower impact through a reduction of the use of plastics:
BioWeb® and Fiber+ are plastic-free, renewable, compostable, and biodegradable tea filter materials. Read more
A range of compostable solutions for coffee filtering applications including, for instance, GreenCapsule Top Lid offers a compostable lid for the single-use coffee capsule. Read more
CelluStraw™ solutions enable the food industry to provide consumers with an alternative to single-use plastic straws. Read more
The Disruptor® technology provides a more sustainable solution to the water purification market, making safe water accessible where it's most needed. See an introduction video of the technology here.
NatureMold™ material for single-use baking trays and molds are compostable solutions for environmentally friendly food packaging and bake-and-serve applications. Read more
Coralpack compostable, grease-resistant wrapping papers reduce the environmental impact of packaging waste. Read more
A range of transparent wrapping papers provides an alternative to replace non-renewable materials. Read more
More sustainable tape backings for both Water-activated tape (WAT) and Pressure sensitive adhesive (PSA) tape offer an excellent trade-off between performance and sustainability features for the packaging industry. Read more