Acti-V® and Acti-V® XB release liner technology
Proprietary and patented* release liner technology
Plays an active role in the silicone coating process
Improves productivity, efficiency, reliability and sustainability
Available on glassine papers for all pressure sensitive adhesive (PSA) applications
Acti-V® technology transformed a paper carrier into an active booster
Proprietary and patented* Ahlstrom technology is applied to Acti-V® range of glassine supercalendered release papers. Acti-V® release paper is no longer just an inert carrier for silicone. It plays an active role in the process of silicone coating, as it creates a strong chemical bond between the paper surface and the silicone layer applied to it.
Silicone curing is faster and requires less catalyst.
Anchorage of silicone to the paper surface is stronger and more stable, even in challenging environmental conditions.
With Acti-V®, quality and reliability of the silicone coated release liner are made easier. It's how our research helps you stay ahead!
Multiple benefits
Acti-V® technology delivers multiple benefits through the silicone coating process, in terms of cost efficiency, certainty, flexibility, and sustainability:

Ready to run on any silicone coater
Ahlstrom Acti-V® is the benchmark release paper used on the fastest and most demanding silicone coating lines around the world. You can switch to Acti-V® right now and enjoy the benefits immediately.
Because there's no change in physical properties, or in converting and end-use performance, in most cases you won't have
to alter technical data sheets or re-qualify the liner with your customers.
Today, Acti-V® is converted successfully on the world's fastest and most demanding silicone coaters.
Prior to the market introduction, Acti-V® performance was tested through silicone coating at 1200 m / min, and with silicone formulation with platinum levels as low as 20 ppm.
Silicone anchorage on Acti-V® resulted up to 40 % higher than on conventional release papers.
Additionally, silicone curing and anchorage can be achieved at either higher speed, lower catalyst contents, or lower oven temperature.
Most importantly, depending on the priorities of the business and the operations, Acti-V® gives the possibility to prioritize the benefit which is considered most relevant.
Acti-V® also allows more flexible choice of a wider range of silicone formulations, even those more challenging for conventional liners: Fast Curing, Low Temperature Curing (LTC) formulations, Controlled Release Agents (CRA) formulations.
A new generation: Acti-V® XB
Ahlstrom then developed Acti-V®XB the release paper combining Acti-V® properties with an extra surface barrier that further improves silicone hold-out . In addition to the consolidated Acti-V® benefits, silicone coating of Acti-V® XB allows:
Better Coverage: a brighter coverage test (stain test) of siliconized liner can be obtained at equal amounts of silicone
Lower Coat-weight: Alternatively, the same coverage test (stain test) can be obtained with a lower silicone coat-weight
Acti-V® XB combines patented* Acti-V® technology with exclusive new benefits: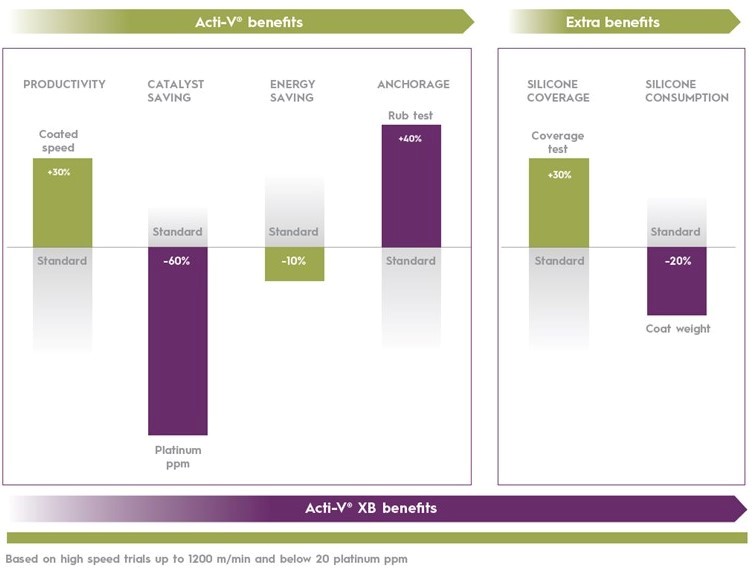 Links
* Patent protection is granted in Europe, United States of America, Australia, Brazil, Canada, India, Korea, Mexico, Russia. Utility models protection is granted in China and Taiwan. The company has also pending patent applications and utility models in other countries worldwide. Acti-V is a registered trademark of Ahlstrom Oyj in the EU and the USA and either registered or pending in a number of other countries worldwide.